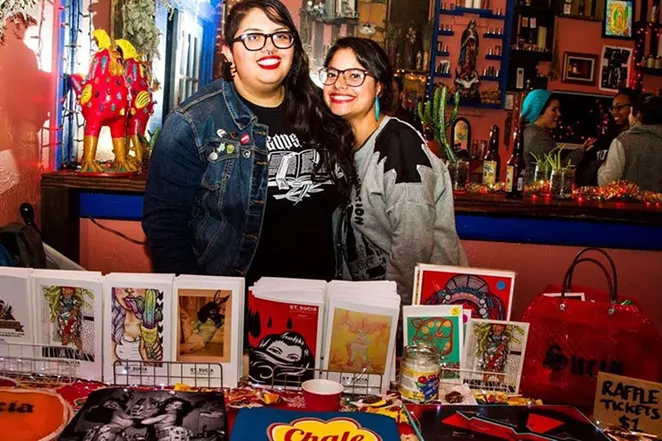 Photo by Destiny Mata
Isabel Ann Castro and Natasha I. Hernandez at the release of their sixth issue.
When it comes to brown women in the media, there's a lack of authentic representation. There are stories that aren't being told and voices that are overlooked, and women who don't see themselves in movies, on TV, in popular magazines or books are fed up.

And two San Antonio women, Isabel Ann Castro and Natasha I. Hernandez, creators of St. Sucia, are doing something about it.


"You don't need to hate the media," says Hernandez, St. Sucia's editor. "You need to be the media," even if that means being "DIY as fuck" — like sewing pages together the night before an issue release or working until 5 a.m. to ensure everything gets to the printer on time.
When Castro, St. Sucia's art director, and Hernandez, who call each other zine wives, first had the idea to create a publication, they were searching for an outlet to share their own stories. They wanted to publish works that they, themselves, wanted to read: unfiltered narratives that are gritty and raw. Stories told by a sucia.
Their first release included multiple pieces of original work and was organized, edited, designed and printed within a month's deadline. They received nearly 50 submissions, and printed over 20 of them, all of which unapologetically illustrate subjects deemed too taboo to talk about, like abortion, one-night stands and female mastburbation.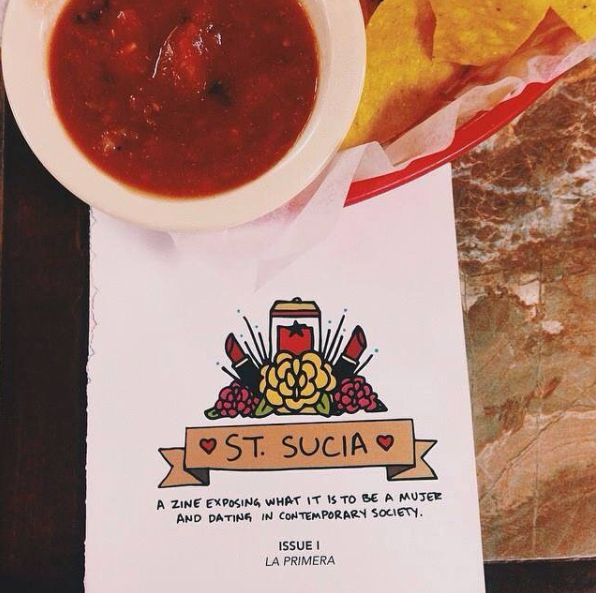 St. Sucia's first issue, La Primera
Now, they're preparing to release their eighth issue and they've received more than 150 submissions since their callout in October. And for the first time, they'll publish works from women living in Rhode Island, Florida and Pennsylvania, in addition to Texas, Oregon, California and New York — the states from which they regularly receive submissions.
Issues of the zine can now be found in libraries at UTSA, Texas State University, the University of Houston, the University of California at Santa Barbara, and was used by a student at UC San Francisco for her thesis on Latina sexuality. In just a short time, St. Sucia has been recognized as a critical part of a movement that empowers brown women by letting them tell their stories of trauma, anger, identity, pain and love.
Their latest issue, which comprises a collection of poetry, prose and illustrations centered around the theme of "family," is set for a November 25th release to coincide with Thanksgiving. Readers can expect stories, both emotional and heartwarming, that, like the rest of the pieces they publish, are powerful, personal and at times even painful to read. Like stories of rape and abuse, these are experiences, told in a first-person point of view, that we don't read about often, especially around the holidays. But the zine's creators insist these are stories that need to be told. And for many women, St. Sucia has become a cathartic way to share and explore these stories.
Since day one, Castro and Hernandez have made it their mission to challenge the way Latinas are seen in popular culture. It's either the hyper-sexualized woman (think Sofia Vergara) or the maid (remember Maid in Manhattan?). And where the media has failed us, St. Sucia is armed to combat these dichotomies with real voices by real women.
But even with seven, almost eight, issues under their belt, both Castro and Hernandez know their work is not done. They're encouraging more women and people of color to find their own mediums of expression. They're constantly reminding their readers that they, too, can create a zine or engage in any form of storytelling, for that matter. Most of all, they want to make sure no voice is silenced.

St. Sucia Issue VIII Zine Release, 9 p.m. Fri., Nov. 25 at Hi-Tones, 621 E. Dewey Place. T0 order any of St. Sucia's issues, visit stsucia.bigcartel.com.