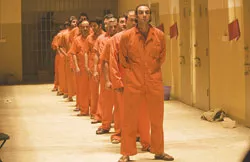 Prisoners line up in Errol Morris's Standard Operating Procedure.
Standard Operating Procedure
Director:
Errol Morris
Screenwriter:
Errol Morris
Release Date:
2008-06-18
Website:
http://www.sonyclassics.com/standardoperatingprocedure/
Rated:
R
Genre:
Documentary
To every modern war, its own iconic photograph. For World War II, it was the raising of the flag on Iwo Jima. For Vietnam, it was the little girl burnt by napalm, running down a road unclothed. For Iraq, it is a pyramid composed of seven naked, hooded human beings.
That photograph — along with shots of a man led by a leash, prisoners being compelled to masturbate, and a hooded Iraqi hooked up to wires and forced to stand on a box — shattered any remaining illusion that American troops deserved to be greeted as benevolent liberators.
In Standard Operating Procedure, director Errol Morris offers something both more and less than an inquest into what really happened at Abu Ghraib, where those appalling pictures were taken. Alex Gibney's Taxi to the Dark Side is a more complete account of how brutality became institutionalized in Abu Ghraib, Bagram, and Guantánamo. Charles Ferguson's No End in Sight provides a more thorough analysis of how American arrogance and incompetence turned Iraq into an abattoir. But Morris (The Thin Blue Line, The Fog of War), who specializes in worrying an elusive truth, is most interested in how we tease meanings out of images.
Standard Operating Procedure does indict the American military occupation for systematic abuse. It documents egregious incidents of torture and murder, for which no one above the rank of staff sergeant has ever served time. But it is most remarkable as a metadocumentary; if Sex and the City, a fripperous two-hour fashion show, is about how we (or some of us) look in the early 21st century, Morris's film is, in a different sense, also about how we look — how we process what we see.
Americans directly connected with the notorious Abu Ghraib photos appear on-screen, explaining what they think was going on. Lynndie England, an Army specialist who took some of the most disturbing shots and appears in others smiling, giving thumbs-up to brutality, offers a Nuremberg defense: "We just did what we were told to to soften 'em up for interrogation." She was blinded, she says, by love for Charles Graner, a staff sergeant 14 years her senior who directed many of the poses. Janis Karpinski, the brigadier general nominally in charge of prisons, complains of being duped and scapegoated by superiors. Tim Dugan, a civilian interrogator, summarizes Abu Ghraib as "a bunch of kids getting shammed."
"You don't see outside the frame," notes
Megan Ambuhl Graner, one of the shammed, a callow recruit assigned to guard duty in a garrison under constant mortar attack and threat of revolt. Outside tightly framed shots of interviewees, we see excerpts from letters that MP Sabrina Harman wrote to her girlfriend in the States, candid, contemporaneous accounts. We also see brief reenactments. Most crucial, though, is what we learn was lurking beyond a photo's frame — sadistic interrogations that, in one instance, produced a hooded corpse long before startled guards began to photograph it. Outside the frame are Donald Rumsfeld, Ricardo Sanchez, Dick Cheney, and other muckamucks who remain unaccountable for how they mucked up. And outside the frame are thousands of other guards and detainees. An instrument of illumination, Morris's film can only hint at what lies beyond the light. How do we gauge the moral murk if someone falls in a prison cell and no one is around to photograph it? •