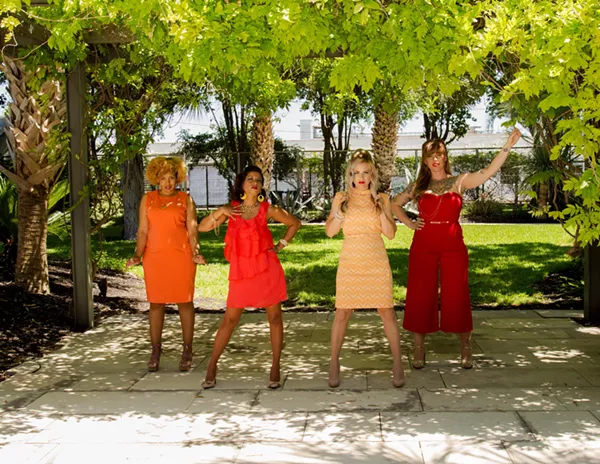 Photos courtesy of Stars and Garters Burlesque
Summed up simply by online authority IMDb as "a cadre of attractive lifeguards patrol a crowded recreational beach," the '90s-era guilty pleasure
Baywatch
boosted the careers of actor/singer/drunken hamburger-eater David Hasselhoff and actress/Playboy Playmate/PETA supporter Pamela Anderson ... but is arguably best remembered for its slow-motion, booby-bouncing running scenes. Evidenced by a recent box-office flop that unapologetically objectified
costars Dwayne "The Rock" Johnson and Zac Efron,
Baywatch
boasts an odd brand of staying power that defies trends and taste. With a nod to the show's apt nickname (not to mention a series of adult films), Stars and Garters Burlesque's
Babewatch!
goes beyond the sexy lifeguard shtick to put a naughty spin on the playful beach party films of the 1960s (
Beach Blanket Bingo
,
How to Stuff a Wild Bikini
,
Ghost in the Invisible Bikini
, etc.). Showcasing the talents of S&G mainstays Suki Jones, Pystol Whips, Black Orchid and Coco Simone along with special guests Brian Gutierrez, Emma D'Lemma and Giselle J'Adore, the "two sexy shows on one sizzling summer night" combine classic striptease, burlesque, pole dance, variety performances, shimmying and shaking with audience participation opportunities — including a "rowdy" take on beach party limbo.