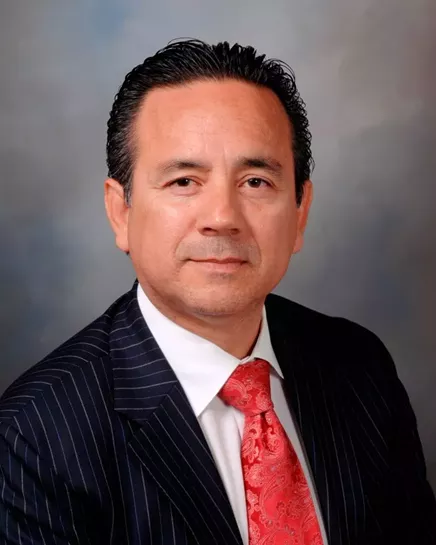 The indictments against Uresti come after a February raid on his downtown law offices by FBI and IRS agents
A federal grand jury has returned indictments against State Sen. Carlos Uresti that outline multiple criminal charges against the longtime San Antonio lawmaker, including bribery and wire fraud.
The charges against Uresti, unsealed on Tuesday afternoon, stem from two cases — his alleged criminal involvement in a now-bankrupt fracking company and his efforts to secure a contract for a private company that helps run a West Texas detention center.
Last year,
the Express-News first detailed
the Democratic lawmaker's involvement with Four Winds, a now-defunct company that tried to bank big off the South Texas oil boom by selling frac sand to oil and gas drillers. Investors have accused Four Winds CEO Stanley Bates, who was indicted alongside Uresti this week, of spending their money on things like Ferraris, "wild parties" and $20,000 diamond rings.
Uresti, who provided legal services to Four Winds and at one point even acted as outside counsel for the company, allegedly helped recruit investors while maintaining a small stake in the company. Some of Uresti's personal injury clients who won major settlements say the state lawmaker convinced them to dump their money in Four Winds — clients, like Denise Cantu of Harlingen, whose exploding tire caused a wreck that killed her 13-year-old daughter, 4-year-old son and two friends. In Cantu's case, Uresti received a $27,000 commission, while she eventually lost most of her $900,000 investment with Four Winds.
In a prepared statement Tuesday, prosecutors with the Western District of Texas said Uresti was part of "an investment Ponzi scheme" to market frac sand for oil production, all while making "false statements and representations" to Four Winds investors. "The defendants allegedly used funds from more recent investors to pay earlier investors and for personal expenses," according to the statement from prosecutors. Former Four Winds consultant Gary Cain also faces numerous charges related to the alleged Ponzi scheme.
A separate indictment unsealed Tuesday accuses Uresti taking part in a decade-long bribery racket over a prison contract in West Texas. The indictment alleges that one of Uresti's colleagues, a Lubbock resident named Vernon C. Farthing III, paid the state senator some $10,000 per month as a "marketing consultant" on a contract to run medical services at the Reeves County Correctional Center. According to the indictment, Uresti would pocket half the money and give the rest to an unnamed Reeves County official in exchange for his vote to award the contract to Farthing's company.
The indictments follow
an FBI and IRS raid
on Uresti's downtown law office this earlier this year.
Uresti, who hasn't yet responded to a request for comment, is scheduled for his first appearance before U.S. Magistrate Judge Henry Bemporad in San Antonio's federal courthouse Wednesday morning.