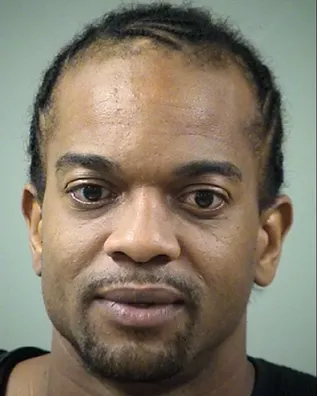 Bexar County
Adrian Maurice Hardeman was shot dead by state troopers on Monday
Some three hours after he allegedly murdered the mother of his 1-year-old son and fled with the boy, Adrian Maurice Hardeman was shot and killed by Texas Department of Public Safety troopers after he wrecked his car on a rural Gonzales County road Monday afternoon.
The San Antonio Police Department says April Russell, 35, was found dead from a gunshot wound in her northeast side apartment at around noon on Monday. SAPD Chief William McManus told reporters that investigators believe Hardeman showed up at Russell's apartment earlier Monday morning to try and patch things up. One neighbor
told the Express-News
she'd seen Hardeman berating Russell in the courtyard of the apartment complex Monday morning — "Nasty names. I don't even want to repeat them because they were so bad."
Police say that Hardeman returned hours later, broke through a front window to get into the apartment and shot Russell. He also fled with their 1-year-old boy.
While DPS hasn't yet provided a full account of what led up to Hardeman's death, the agency says he was armed when troopers encountered him. The Texas Rangers are now investigating the shooting.
An SAPD spokesperson says the child was found at a home on the far east side Monday afternoon "and is fine."