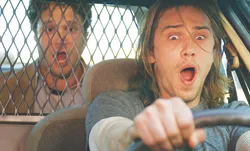 Pineapple Express
Director:
David Gordon Green
Screenwriter:
David Gordon Green
Cast:
James Franco, Seth Rogen, Craig Robinson, James Remar, Joe Lo Truglio
Release Date:
2008-08-06
Studio:
Sony Pictures
Music Score:
Jonathan Karp
Rated:
R
Genre:
Comedy
Our Rating:
4.00
The latest from Rogen, Apatow, etc., etc. (Knocked Up, 40 Year Old Virgin) is less about the titular strain of cannibis than the guys smoking it, and less about weedheads than mid-20s dude-children hiding out from adulthood in thick, skunky clouds.
The current bud-buddy kings, Harold and Kumar, with their high IQs, stereotype-bashing identities, and respectable vocations, seem a direct response to Cheech and Chong's stoney stupidity. Dale Denton (Rogen) and Saul Silver (Franco) hang out realistically in between — (probably) not brain-damaged, but certainly practicing the 420 Habits of Highly Unsuccessful People. Dale is a standard red-eyed loser, dating a high-school chick (Amber Heard), interacting with "grown-ups" mainly through radio call-in shows, and working a dead-end job as a process server because it allows him to hot box his car during business hours. Saul is a stay-at-home drug dealer, still wearing pajamas in the late afternoon, giggling at syndicated sitcoms, and trying desperately to befriend Dale, who's only interested in buying some weed. But it's a screenplay penned by Rogen and Goldberg (Superbad), not freaking Wes Anderson, so Dale and Saul face more immediate problems than quarter-life ennui: They've got a killer cop (Rosie Perez) and a narcotics kingpen (Gary Cole) on their asses, and a bag of green so good they can't quit hitting it, even when their lives are at stake.
Rather than relying on the same tired ganja gags (the munchies, short-term memory loss) Pineapple Express successfully draws humor from underutilized aspects of marijauna use: the paranoia, the reefer-fiend's counterintuitive tendency to blaze up before important tasks, and especially the awkward symbiotics of the drug-dealer/drug-buyer releationship. But the biggest laughs come from the bizarre genre mashup. Rogen and Franco play their parts as the victims of a casting-office paperwork error — jokers/tokers meant for a movie about buying pizza or finding their car keys accidentally stuck in a B-grade '80s action flick. Facing gun-wielding hitmen, high-speed car chases, and impossibly huge explosions, Saul and Dale try their best to act the part, arming themselves and inventing hilariously awful taglines. Despite their efforts, the boys aren't tough guys, so they respond to the escalating violence with slap-fights, crying, and flat-out running away.
The prospect of seeing Franco and Rogen together onscreen again is exciting on an almost-sexual level for Freaks and Geeks freaks, and the duo's chemistry has only improved since high school. Rogen unsurprisingly succeeds at playing the same sarcastic, chubby stoner he plays in nearly every movie (I, swear there was a bong-hitting scene cut from Horton Hears A Who), but he's outshined in every scene by Franco, playing brilliantly against his standard brooding-yet-sensitive-dickweed typecast, as the endearingly childish drug dealer who only wants to be friends. He's so good, you'll love him even when he's peddling dope to school kids or contemplating euth-
anizing his perfectly healthy grandma. The reteaming is so good, in fact, that the movie noticeably drags when its two principals aren't onscreen, but fortunately those moments are brief, just long enough for a quick puff, puff, pass, or even a soda and candy break, if you're into that. •