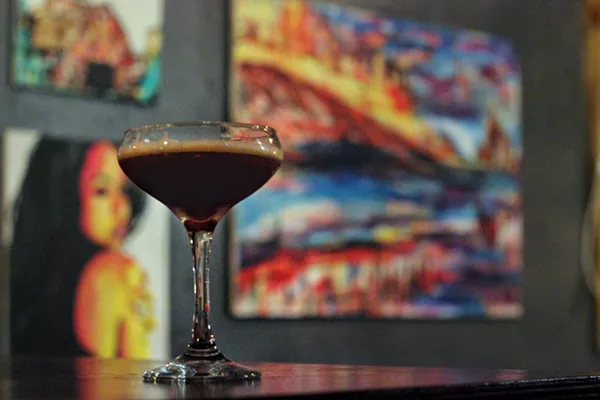 Black Manhattan at Ventura
If you aren't actively seeking Ventura, it might be easy to miss. The music venue/bar has two entrances, a Riverwalk entrance, just down the way from The Luxury, and the other off of Avenue B. When notable headliners are performing or when Renegade Foodie, the food truck that slings out food at the Avenue B entrance, is open, you could recognize a small crowd, marking the entrance to the bar. When neither occurs, you could very well mistake the bar for being closed. The sign outside that hints to varying hours, doesn't offer much assistance to confirm if they are in fact, open or closed either.
If Ventura seems closed, I recommend you pull on the door and take a chance, you could luck out and it have it be unlocked! Once that door is open you are welcomed by a decently sized bar, with a performance area and mismatched art littering the walls. The best way to describe the bar is as a neighborhood joint in the middle of downtown, the style is a bit of a hodge-podge, with many different ideas and themes. With this ambiance though, comes a sense of acceptance. You could visit this bar, order whatever you please, and not have to worry about being judged for your drink of choice.

During happy hour the drinks are a steal, too; well liquor will cost you about $3.50 as will a Shiner or a Dos Equis. The cocktails are priced at $2 off their list price and will run at about $4 to $6 during the discounted time. The menu located on a board at the end of the bar can change, at this point in time it includes Margaritas, Moscow Mules, Old Fashioneds, and Black Manhattans (made with Averna versus sweet vermouth). Order the tried-and-true margarita or a well drink and you can't go wrong. Venture outside of these and you may find that your go to drink is a little too sweet, or not prepared in the style that is traditional to it.
Though the crafted cocktails need a little bit of work, the wells are strong, the beer is cold, and the bar is full of friendly people and local performers. Visit during happy hour (6 p.m. to 9 p.m. daily) and you could even stumble in on a band in the middle rehearsal, giving insight into how music is created.
Venutra's happy hour is daily from open (typically 6 p.m.) to 9.

1011 Avenue B.

<!—————————————StartFragment—————————————>Erin Winch writes about boozin' in the Alamo City on her blog Drinking In SA. Follow her on Instagram at @drinking.in.sa for more.