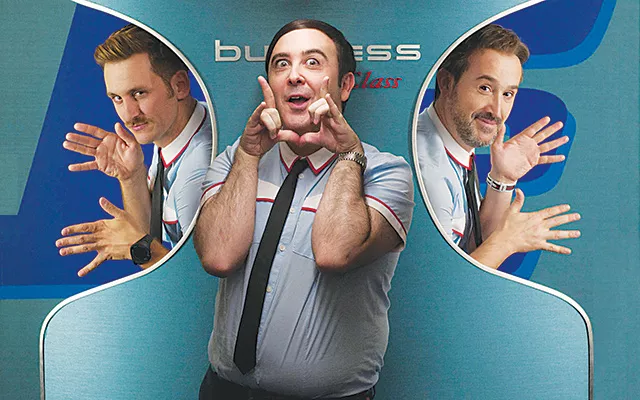 Courtesy photos
I'm So Excited
Summer is a grim reminder of San Antonio's arbitrary — and unfair — status as a "secondary market:" some of these films won't open here on their official release date. In case we get lucky, here's my quick, personal, subjective take on the films to watch in the summer.
June 28
A Band Called Death, a documentary about Death, the forgotten 1971 Detroit garage/proto-punk band that experienced a 2009 renaissance a la Rodriguez.
The only confirmed confirmed SA opening on this day:
The Heat, with FBI agent Sarah Ashburn (Sandra Bullock) and tough and crazy partner Shannon Mullins (Melissa McCarthy).
July 3
THE LONE RANGER
One of the most awaited movies of the year will open in SA. Armie Hammer as the Lone Ranger and Johnny Depp (!) as Tonto in this (we hope) updated, politically correct version of the Old West characters. Disney announced proceeds from ticket sales of the June 22 special world premiere in Anaheim, Ca., would go to the American Indian College Fund. About freaking time.
July 3
Dirty Wars, a doc on the U.S. covert and not-so-covert drone attacks in Afghanistan, Yemen, and Somalia.
July 12
FRUITVALE STATION
This Sundance and Cannes winner is a nerve-wracking thriller about the real Oscar Grant, a 22-year-old Oakland man involved in a well-publicized shooting on New Year's Eve 2009. But the biggest and baddest movie opening on this day may be Pacific Rim, directed by Guillermo Del Toro (Hellboy, Pan's Labyrinth).
July 19
ONLY GOD FORGIVES
Ryan Gosling reunites with his Drive team for the story of Julian, an American drug smuggler living the life in Thailand until his mother pays him a visit and demands revenge after his brother is murdered. Nominated for a Palm D'Or at Cannes.
July 26
BLUE JASMINE
The yearly Woody Allen film is always cause for celebration, at least for us Woody maniacs. This time, the setting is San Francisco, where Cate Blanchett goes to recover after losing everything by marrying the wrong guy (Alec Baldwin). Any movie that has Allen directing Louis C.K. and Andrew Dice Clay is definitely worth a look.
Aug. 2
I'M SO EXCITED
Pedro Almodóvar's first pure comedy since Women on the Verge of a Nervous Breakdown (1988) reunites him with Penélope Cruz, Cecilia Roth and Antonio Banderas. But the movie is stolen by three azafatos (male flight attendants) who promise to make your trip "as pleasurable as possible."
Also recommended:
2 Guns
Denzel Washington and Mark Wahlberg are two undercover cops stealing money from the mob while being set up by it.
Cockneys vs. Zombies
(from the Shaun of the Dead team).
Aug. 9
WE'RE THE MILLERS
Jennifer Aniston is at her sexiest and funniest as a stripper-turned-"mom" in a fake family led by a drug dealer (Saturday Night Live's Jason Sudeikis).
Aug. 16
THE BUTLER
The amazing true story of Cecil Gaines, an African-American who served as White House butler 1952-1986. Arguably, Forest Whitaker's most important role since Bird and The Last King of Scotland.
Also opening:
David Gordon Green's Prince Avalanche, with Emile Hirsche and Paul Rudd, filmed in and around Austin.
Aug. 23
SHORT TERM 12
This drama set inside a foster care facility swept both Jury and Audience awards at this year's South by Southwest.
Aug. 30
CLOSED CIRCUIT
Rebecca Hall and Eric Bana are two lawyers and ex-lovers involved in a terrorist trial, where their every move is observed by the powers that be. It takes place in England, because in the U.S., obviously, we've never had to worry about the government monitoring citizens.
Sep. 6
SALINGER
Is this the year's best documentary? A look at the life of the reclusive author of The Catcher in the Rye.
Sep. 13
MACHETE KILLS
Danny Trejo. Robert Rodríguez. "Carlos Esteves" as The President. Lady Gaga as "La Camaleón." Machete 2. Need I say more?
Sep. 20
THE FAMILY
Robert De Niro is the head of the Manzoni family, and the movie's executive producer is named Martin Scorsese. Before you say, "Again?" keep in mind this is a comedy directed by Luc Besson (La Femme Nikita) and Michelle Pfeiffer is the crazy one here.
For metalheads:
Metallica: Through the Never, a surreal 3-D movie taking place in the middle of the band's show.