Summer isn't over yet, technically, but Labor Day seems like a good time to really think about everything that's happened in these past few months. Let's do just that with all the tasty and not-so-tasty openings, closings and what nots that happened this summer:
Andrew Weissman kicked things off in late May with the opening of Minnie's Tavern and Rye House (The Rye House is still TBD). Read our review here: Minnie's Tavern Offers 'Tres Bons' French Brassiere Fare.
Tribeca di Olmos opened in June in the building that held Valentino's,  Olmos Park Bistro, A Tempo, Etcetera in a span of five years. Owner Jean-Francois Poujol is bringing Italian fare made with Texan ingredients to the Olmos Park Circle. Read our review here: Tribeca's Italian Fare Hopes to Defy Cursed Olmos Park Location.
210 Ceviche opened in early June. The ocean-loving restaurant features ceviche samplers and tasty cooked dishes. Stay away from the Enjarrada tostada if you know what's good for you. Read our review here: Sink or Swim for 210 Ceviche.
Rad Bar & Grill opened in the Stone Oak area and already caters to chill karaoke-loving 30-somethings. Rad also hosts live music  on weekends. Read our write up here: Stone Oak's Got Talent? Karaoke at Rad Bar & Grill.
Back at Olmos Park, Laurent's Modern Cuisine closed its doors in late June. Chef Laurent Rea moved over to the Fig Tree Restaurant. Pho Kim Long (we're not kidding with this name), took over the LMC spot in early August. Read more here: Laurent's Closes, Pho Kim Long Moves In.
Henry Leman opened Beat Street Coffee Co and Bistro in the old Justin's Ice Cream spot on Main. Chef Jeff Wiley and Co offered snazzy lunches and creative dinners on the cheap. Read our review here: Beat Street Coffee Co.'s Steady Beat.
A slew of restaurants opened in July:
The Clean Plate, owned by Cat New, offers organic, sustainable fare at Five Points. It had a few kinks, but the flavors were there. Read our review here: Organic and Sustainable, At A Price.
Blanco BBQ was opened in July by chef Arthur Mayo. It offers a big barbecue experience, dozens of menu items and the chicken and turkey are worth writing home about. Read our review here: Blanco BBQ Satiates Crowds.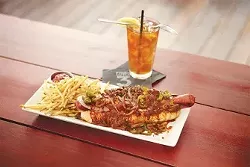 Austin-based Cover 3 finally opened after announcing in January that it would replace Roaring Fork. The bro-friendly fare is enough to make you come back, but they also have a legitimate happy hour and wine selection. Read our review here: Cover 3 Has a Homewrecker You'll Love.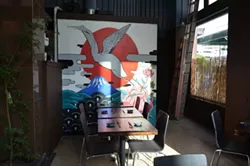 Kimura, Chef Michael Sohocki's second restaurant, opened in the former Cakery Bakery location off Pecan and St. Mary's Street. It serves sushi and ramen along with other Japanese favorites. Check out our sneak peek here: Kimura Sneak Peek: Ramen Bar Set To Open July 29.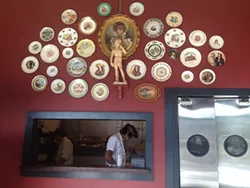 Chad Carey's Barbaro opened in the old Foundry spot and it's been a hit with the Monte Vista crowd so far. They've also added a happy hour from 3-6 p.m. Monday-Friday. Here are a few pics from its early days: First Look: Barbaro's Soft Opening.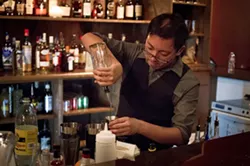 Two new bars graced the St. Mary's Strip: TBA replaced Salute with a small cocktail program and elevated bar snacks, and Faust Tavern filled the former Web House spot with cool wells and hot pizza served until 4 a.m.  Read our review of TBA here: TBA is a Well-Kept Secret (For Now).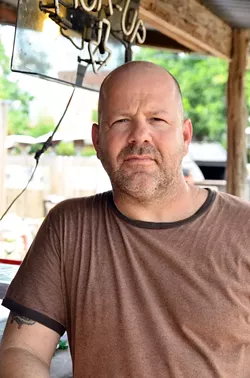 Over in Southtown, Friendly Spot owners, Jody and Steve Newman, brought a new chef on board to revamp its bar menu. Scott Boone, formerly with 20Nine has added salmon cakes, French flatbreads and other treats. Read about the move here: Friendly Spot Adds Scott Boone, New Menu.
Jason Dady's DUK Truck  and Tapa Tapa Truck both had their turn in the spotlight on Cooking Channel's Eat Street. Visit Cooking Channel's site for details on episode reruns. The Cooking Channel also stopped by while filming Chuck's Eat the Street with Chuck Hughes who visited El Milagrito, The Monterey and Biga on the Banks.

The Pearl Brewery was atwitter with the announcement of a new juice bar, NY's One Lucky Duck which opened in mid-August, and the announcement of Meatopia Texas. James Beard Award-winning food writer, John Ozersky is bringing his meatastic festival to the Pearl November 2-3 so you have plenty of time to train for a meatstravaganza in order to impress masters like Austin's Paul Qui (of Top Chef and Qui fame), Rene Ortiz and Laura Sawicki (formerly of La Condesa and Sway, two of the city's hippest joints), Dallas' Tim Byres (Smoke, recently lauded by Bon Apetit, Food and Wine and Forbes), Houston's Chris Shepherd (Underbelly, one of Esquire's best new restaurants in 2012), and New York's Justin Simillie (Il Buco Alimentari, a "village-inside-a-restaurant" that completely enraptured The New York Times last year). That's not even mentioning all the local luminaries on the list. Buy tickets at atpearl.com.
One Lucky Duck wasn't the only juice spot to open it's doors this summer: Urth Juice Bar in Olmos Park and Farm to Juice in Stone Oak also started doling out healthy juices. So wash down that breakfast taco with some juice, why dontcha?