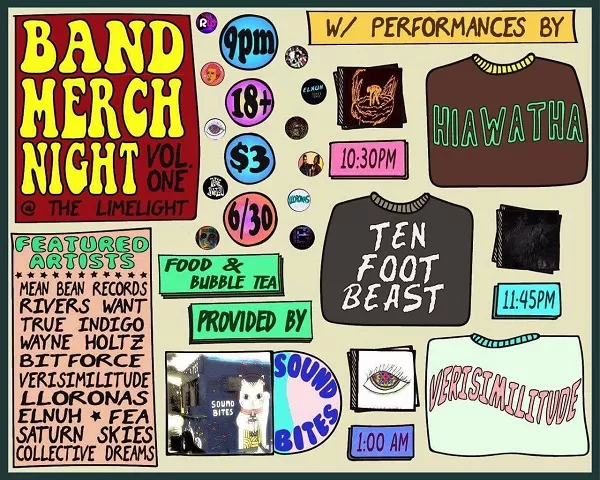 Flyer by Elena Lopez
Dig live music while you shop/peruse.
Now here's an idea so simple yet savvy that we're floored this is the first time it's happened.
Band Merch Night Vol. 1
, which will go down June 30 at The Limelight, is a sort of local music pop-up shop, backed by a rad rock concert.
At the event, set up (at least in part) by
KRTU's Live and Local
host
Jeannette Muñiz
, attendees will be able to peruse and purchase merchandise (including music in various formats, t-shirts, artwork, etc.) from more than ten local acts and at least one record label. Meanwhile, live music will be presented by SA post-punk crew Hiawatha, ATX hardcore band Ten Foot Beast, and local garage-psych outfit Versimilitude.
In an online exchange, Muñiz told the
Current
that she has been wanting to set up an event like this for years; an event where a slew of diverse bands could peddle their wares and the fans get to directly support and interact with them.
"This is a great opportunity to support local music," Muñiz remarked. And, the cool thing is that "you'll be able to speak with the artists one on one, instead of just hoping to say 'hi' as they're leaving."
Apparently, as you might have gleaned from the phrase "Vol. 1" in the name, this will be a recurring event. In fact, Muñiz reports that it will occur every two to three months, at different venues around town.
If you are interested in getting your band on board for the next Band Merch Night, you can do so by contacting Muñiz at <!————EndFragment————>krtuliveandlocal@gmail.com.
For local music fans, on the other hand, this is your pure opportunity to help ensure the lifestyle viability of the actual players on the scene, contributing directly to the next waves of creation to come from some of the Alamo City's best musical acts.
Band Merch Night Vol. 1 with Performances by Hiawatha, Ten Foot Beast, Versimilitude
$3.00, 9:00pm, The Limelight, Fri, June 30, 2718 N St Mary's St, (210) 735-7775, thelimelightsa.com.