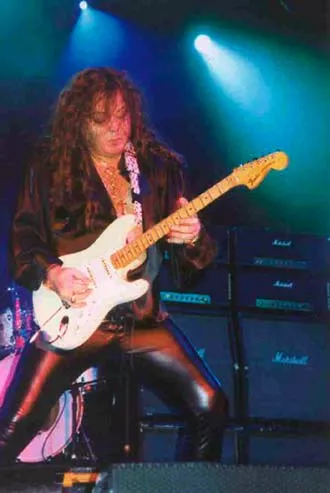 Yngwie Malmsteen

In late 2002, while aboard a flight to Tokyo, Swedish guitar wanker Yngwie Malmsteen reportedly uncorked a blistering flurry of anti-gay epithets. A woman sitting close to Yngwie took offense at his tirade, and expressed her displeasure by dousing him with a glass of water. Yngwie's response quickly became the stuff of Internet legend. Dropping an angry, borderline-hysterical string of c-bombs on the woman, he concluded with the following warning: "You've unleashed the fucking fury!"
It doesn't speak well for the state of Yngwie's recording career that mp3s of his eight-mile-high meltdown - recorded by a member of his entourage - attracted more listener interest than any of his recent musical endeavors. But it shouldn't really be a surprise. Yngwie is a product of the '80s, the heyday for guitar excess. While other metalheads offered their allegiance to Randy Rhoads or Eddie Van Halen, Yngwie fans stood out from the pack. They refused to accept radio-sanctioned guitar heroes. They wanted secret six-string messiahs, and Yngwie was their man.
Yngwie Malmsteen
9pm
Saturday, March 6
White Rabbit
2718 N. St. Mary's
737-2221
Current
Choice
ζ
After logging time in Steeler and Alcatrazz, Yngwie went solo in 1984 and established himself as the gold standard for millions of pimply guitar students. The fact that he provided no discernible sense of song structure, restraint, or taste only made him more of a rebel. Yngwie could shred, he wore black leather pants, and he had a weird, vagely Nordic accent that only made him seem more exotic.
But every dorky teen metalhead eventually grows out of the phase where he considers it worth debating which guitarist plays the fastest. In 2004, Yngwie looks only slightly cooler than Yanni. So here's my question: If a male-menopausal guitar stud unleashes the fucking fury, and no one hears it, does he still make a sound? •