Most of us don't want our barbecue to be too corporate or contrived. Ideally, a good joint should at least appear to have evolved organically over time — preferably passed down, generation after generation. And though family feuds are legendary in the world of 'Q, so are stories of successful dynasties.
Chris Ashford took over Ed's Smok-N-Q, a former Sonic drive-in on S. W.W. White Road, renaming it BBQ Life by Chris so his parents Edward and Waldean could retire. (They didn't, but that's another story.) It still seems like a family operation — complete with kids and that institution's inevitable (and inevitably forgiven) hitches and hiccups. Of which we encountered a couple…
"…and I think I'll have the peach cobbler for dessert."
"We don't have the peach cobbler."
"What about banana pudding?"
"We don't have that either."
"Have you stopped doing desserts?"
"No, the lady who does them is in the hospital."
Best wishes for a speedy recovery.
There weren't any Jalapeño Rib Tips on our visit, either (though they plan to start doing them again soon, according to the pitmaster, who put in a cameo appearance). The all-beef Lockhart sausage that is normally on the meat plates was AWOL and being replaced by the pork-and-beef Yoakum variant… And, as we learned a short while later, the pulled pork wasn't ready, either.
"Turkey?"
"I'll check — maybe not yet."
"If no turkey, then chicken. Surely there's chicken."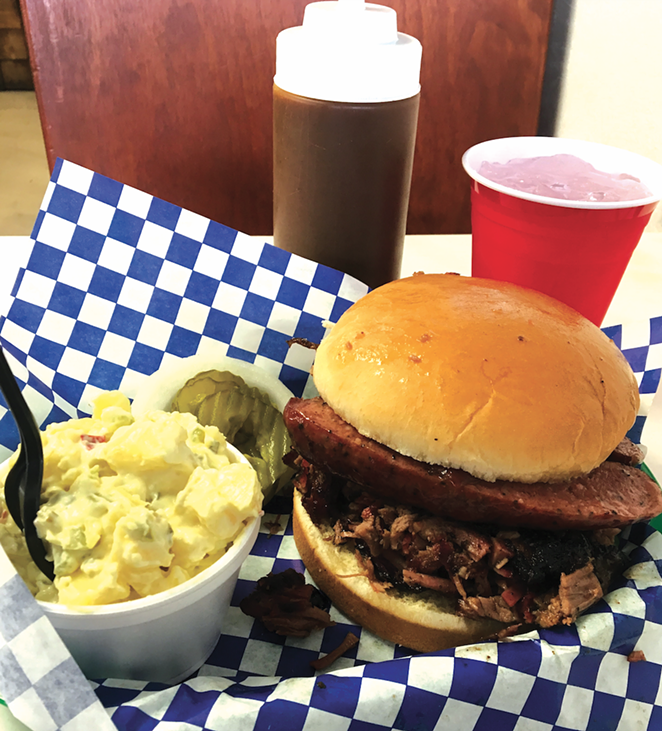 Yes, there was chicken, and it was good. Nothing to drive across town for, but honest, generous, and kissed just enough by mesquite smoke. The same can be said for the falling-from-the-bone ribs: no syrupy glaze or super-peppery crust. Just simple, satisfying, straightforward pork — on this we all agreed.
There was less agreement on the brisket. One vocal participant thought it superior to that coming off the pits at cult favorite 2M Smokehouse BBQ, about a mile south on W.W. White. The rest of us thought that comparison was both unfair and untrue, but differed on the particulars. Could have been luck of the draw, but my serving was fairly fatty and a little loosey-goosey for my taste. Those with lean-leaning servings found the fat far more flavorful. But we all concurred on one point: in contrast to that joint down the street, where sauce is superfluous, Chris' sauce did wonders for the brisket by lubricating the lean and cutting through the fat with its suggestions of subdued spice and molasses.
As for that substitute sausage, it was spectacularly good, snappy and well-seasoned. BBQ Life puts the brisket and sausage together in the Outlaw sandwich. Add sauce here, too. And contemplate playing with your food a little (sorry, Mom) by removing the long-sliced links from the top of the pile of moist meat and putting them on the bottom, making for a structurally easier-to-eat package. Less squooshing.
We were well into our sides — classic green beans, toothy regular pinto beans, county-fair-creamy potato salad, sweet pintos that suggested cans of pork and beans but way better — when a little Christmas miracle appeared: glistening slices of moist turkey breast, courtesy of the house to make up for all the unavailable items. Normally, I shun turkey on barbeque menus, considering it to be come-lately to the historic canon. That'll teach me. This was the best breast ever, moist and further anointed by a stock aromatic with thyme and maybe more.
"It's a secret," our server said of the stock. "I'd have to kill you…" Or words to that effect. Verdict? Our favorite plate of the day and definitely worth waiting (and driving) for.
Moral (in case you need one at this time of year): At Chris', in spite of missing menu items, it's A Wonderful Life — BBQ and otherwise.
BBQ Life by Chris
902 S. WW White Rd., (210) 359-1511, 11-8 Wed.-Mon., 11-3 Tues.
Sandwiches and plates //
$5.25-$14.50
Best bets //
sausage, brisket, turkey breast, beans
The Skinny //
BBQ Life by Chris has taken over the old drive-in-cum-barbecue joint previously owned by Chris' parents under the Ed's Smok-N-Q moniker. The pits are accordingly well-seasoned and accustomed to turning out quality 'Q. Mesquite-smoked brisket can be fatty but flavorful, sausages (depending on which is available) good 'n snappy, both pork ribs and chicken straightforward and just smoky enough. But the surprise might just be smoked turkey breast. Give it a try along with another surprise: sweet pinto beans.
So many restaurants, so little time. Find out the latest San Antonio dining news with our Flavor Friday Newsletter.