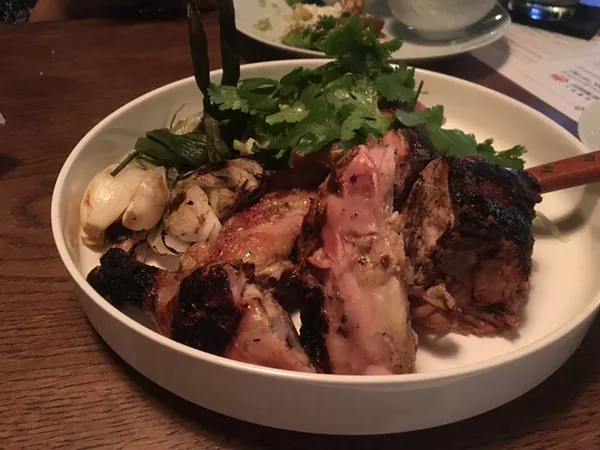 Hot Chisme
2403 N. St. Mary's St., (210) 530-4236.

The restaurant group behind The Monterey, Barbaro and Hot Joy has added a fourth concept with the opening of Chisme this week.
Located inside the former location of the original Teka Molino is Chisme, which brings flavors of South Texas as presented by chef Mara Serna (formerly with The Monterey, and several Houston eateries including Goro & Gun and Foreign Correspondents), desserts by Jess Perez (pastry chef for all Empty Stomach Restaurant Group joints) and a cocktail program by Elisabeth Forsythe (who also manages tipples for Barbaro and Hot Joy). Collectively, the trio is being dubbed The Chismosas.
The menu is made up of starters, veggies, taco plates, platos grandes and desserts. During a soft opening on December 4, I sampled the double avocado tacos with fried avocado, guac, cotija and cilantro and Mexican Cheeseburger tacos with a ground beef patty, grilled ham, queso, avocado and jalapeño slices. Tortillas, corn and flour, are made in-house. The pollo asado, which has plenty of living up to, had me reminiscing on days when tios would man the grill. The result is pleasant, uber moist and slightly charred (you know, like when the tios would get distracted by a caguama or two ... ). Prices range from $7.50 to $19.50.
On the cocktail side of things, we tasted the Chismosa, a frozen number with cachaca, coconut lime cordial and coconut milk, that'll likely sneak up on you on Chisme's patio come springtime and La Pistola, a boozy concoction with tequila reposado, Bittermens coffee liqueur, El Dorado 5 Year Rum, piloncillo syrup and orange bitters. A selection of cocktails will be available during happy hour along with free house-made chips and queso.
Chisme is open 4-11 p.m. Monday-Thursday, 4 p.m.-1 a.m. Friday and Saturday, and 4-11 p.m. Sunday.
Mid-Week Market Launch

The Truckin' Tomato, which recently sold its signature trailer to focus on wholesale goods, is dipping its toe back into market pop-ups.
According to founder Shaun Lee, the Mid-Week Market will reignite the Tomato's market efforts so chefs and home cooks alike can get their pick of fresh produce and locally made products. The pilot was held Wednesday from 3 to 7 p.m. inside the Truckin' Tomato warehouse at 503 Chestnut St.
"The market will help build a bridge between us and customers where people can come in and get the best stuff available," Lee said.
The market included produce from more than a dozen farms and vendors. Expect to find sweet potatoes, collards, winter squash, milk, eggs, beef, lamb, bison, honey, coffee and syrups from Pulp Coffee, Deliish Goods, Deep River Specialty Foods, Madge's Foods, Southern Grit Barbecue, Texas Black Gold Garlic, Cocina Heritage, Local Sprout, Kubena Farms, Johnson Backyard Farms, J & B Farms, Francis & Thatcher Farms, the San Antonio Food Bank, Braune Farms, Vogel Orchards, CNS Groves and Kitchen Pride. Proteins were available by Peeler Farms, Coyote Creek, Evermore Ranch and Windy Meadow Farms.
Based on attendance at today's market, the Mid-Week Market will likely be held every Wednesday in the new year. This marks the third farmers market on the city's East Side after seasonal Dignowity Hill Farmers Market and Sam Houston High School Farmers Market.
More Cookies

More warm chocolate chip cookies are on the way this month as Austin-based Tiff's Treats opens its fourth San Antonio store at 139 N. Loop 1604 E., Suite 102.
The grand opening of the 27th store for the chain, which will take place on Saturday, December 17 from 9 a.m. to 1 p.m., will also serve as a fundraiser for Gabriella's Smile Foundation. Attendees (or can we call them cookie monsters?) can purchase $5 dozen boxes of either chocolate chip, snickerdoodle or oatmeal raisin. Up to $5,000 in proceeds will benefit Gabriella's Smile Foundation.
Tiff's Treats launched in 1999 as a cookie delivery concept by then UT-Austin student Tiffany Chen.
Coffee Doc

Coffee is so hot right now, and one local producer wants you to know exactly how those delicious beans make it to your coffee maker.
That's the story Aaron Blanco, owner of Brown Coffee Co. is sharing in Coffee-Hunting: Kenya, a 138-minute doc by Lee Eubanks.
The film, which was screened in May at the Alamo Drafthouse follows Blanco as he "struggle(s) to find and bring home a new directly-traded coffee from Kenya to our coffee lineup here at Brown Coffee Company. The purpose of the film is to pull back the veil a bit and give coffee lovers a better peek into how NOT easy is it to source amazing coffees and bring them to market. There are funny parts, serious parts, plot twists and a finale that hopefully sends you home smiling," he shared in an email.
Coffee nuts or folks who want to gain insight into Blanco's passion for coffee (a la Jiro Dreams of Sushi) can rent or buy the film on Amazon for $4.99 or $9.99 respectively (or currently free with Prime), or iTunes ($3.99/$4.99).