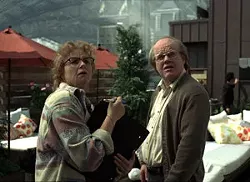 Critic's Pick
Synecdoche, New York
Director:
Charlie Kaufman
Screenwriter:
Charlie Kaufman
Cast:
Philip Seymour Hoffman, Catherine Keener, Michelle Williams, Samantha Morton, Tilda Swinton
Release Date:
2008-11-19
Rated:
R
Genre:
Drama
A portrait of the artist as a dying man: Synecdoche, word-geek speak for using a part to represent the whole or vice-versa, begins with theater director Caden Cotard (Hoffman) well into middle age, old enough to read the obituaries out loud at the breakfast table and monitor his stool for abnormalities. He frets for his own mortality while his marriage quietly dies, and wishes for his lost youth while his daughter quickly grows up. From a series of unidentifiable and increasingly serious medical problems to a marriage-counseling session in which his wife (Keener) admits she fantasizes about the liberation his death would bring her, Caden suffers a checklist of humanity's unspoken nightmares and searches unsuccessfully for a way to communicate his "brutal truth," either artistically or verbally, to those around him. The viewer, however, is confined to Caden's perception, and experiences his fears of inadequacy and loneliness through surreal imagery and magical realism, visual metaphors that begin poisoning the real world around him.
A genius grant from the MacArthur Foundation gives Caden a final chance to create something meaningful and honest, and he rents a massive theater space to create a living, evolving drama, chronicling the misery of his daily life. As this untitled work begins to consume Caden, its focus becomes the play itself, and he is inevitably required to cast not only an actor to play himself, but an actor to play himself directing the actor playing himself, and an actor to play the actor playing himself. This infinite cycle of introspection ultimately only adds to Caden's confusion and eventually begins to negatively affect his life.
Kaufman, who turns 50 Wednesday, proves to be the best interpreter of his writing, utilizing a hands-off directing approach to strip the fantastical elements of any trace of quirk. This two-hour meditation on the lonely horror of ever-impending death, in fact, feels most authentic during its most abstract representations of Caden's anxiety and grief. The often funny, stunning, beautiful experience occasionally becomes almost too painful to watch, but Synecdoche's achievement of genuine human emotion and inner contemplation without the maudlin manipulation of standard Oscar bait should still merit discussion long after we're all rotting in the ground.