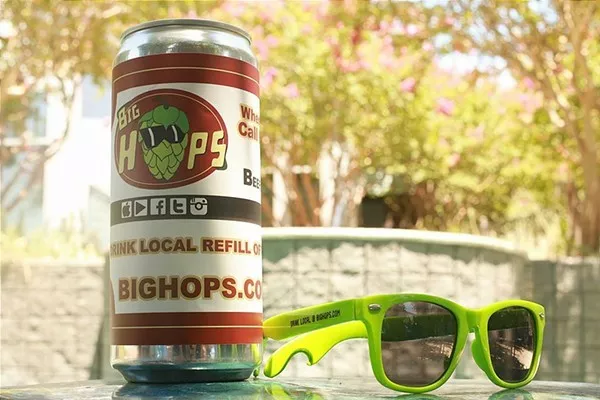 There's sign the Texas Alcoholic Beverage Commission could be losing its fight against so-called "crowlers," a portmanteau of "can" and "growler" that, until the TABC banned them last year, you could find in a small but growing number of bars, grocery stores and specialty beer shops.
In a decision last week, state administrative judge John Beeler sided with an Austin bar that decided to challenge the TABC's brain-twisting logic on crowlers – that glass, screw-top growlers are perfectly legal, but that if a bar fills up a giant can instead and stamps on a cap to seal it, that bar is now a beer "manufacturer" and breaking the law.
"There is no material difference between growlers and crowlers," Beeler wrote in his findings, which now go before the TABC's executive director and could ultimately change the way state regulators view crowlers.
The legal challenge over crowlers started last year when, to the surprise of many, the TABC banned their sale (outside of a brewpub, that is) and ordered bars to stop using crowler-filling machines or face steep fines and risk losing their sales licenses. TABC effectively killed the market for crowlers last September after it raided the Austin-based Cuvee Coffee Bar and seized its tabletop seaming machine, an invention by the Colorado craft beer pioneers at Oskar Blues Brewery. TABC soon afterward "clarified" the loosely-worded section of the state alcoholic beverage code on "packaging" beer to effectively regulate crowlers out of existence.
Cuvee fought back, filing a lawsuit against the TABC that was ultimately bounced to a state administrative hearing before Judge Beeler. San Antonio-based attorney Angel Tomasino, who represents Cuvee, said that Beeler's findings – that the bar was
not
in violation of the state alcoholic beverage code for using a crowler machine and selling beer in crowler cans for off-premise consumption – is for now only limited to the specific case at hand. "As of now, TABC has not changed their stance on Crowlers, so they could still take action against other retailers — including Cuvee — if they find them using the Crowler machine," Tomasino told us in an email. "That said, Judge Beeler's opinion was fairly broad."
In fact, Beeler's findings pretty much dismantle every argument TABC threw at him for why crowlers shouldn't be sold by bars. For instance, TABC argued that selling beer in crowlers "jeopardizes the general welfare, health and safety of the people" since "beer in crowlers is not properly oxidized, organisms can get into the product." Same with growlers, Beeler responded in his findings. Plus, the judge wrote, if crowlers are so dangerous to public health, why would TABC allow brewpubs to sell them at all? "It appears disingenuous for (TABC) Staff to assert crowlers are dangerous to the public, unless they are sold at brewpubs," he wrote.
Tomasino said that the judge's findings could very well make it easier to fight the crowler issue in the future if TABC decides not to change its stance. "Proposals for decision don't have as significant precedential value as state court of appeals opinions, but they do have some," he said.
Bar owners have argued that the 32-ounce crowler cans have several advantages over regular glass growlers – that they're lighter, more durable, easier for bars to sell and better protect beer from air and light. While they can't exactly break out the crowler machines just yet, Beeler's decision last week could go a long way in reviving the newest, easiest take-home craft brew trend in Texas.