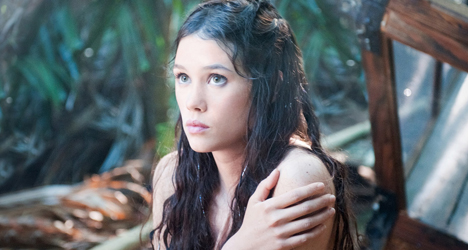 Her professional career may have begun obscurely as an actress and model in Paris, but Ástrid Bergés-Frisbey will soon see some major fanfare when her very first American-made movie, the blockbuster Pirates of the Caribbean: On Stranger Tides (see review) starring Johnny Depp and Penelope Cruz, hits theaters today.
In the swashbuckling sequel, Bergés-Frisbey, who is of Spanish and French heritage, plays Syrena, a mermaid who becomes the key to finding the Fountain of Youth.
During an exclusive interview with me, Bergés-Frisbey, 24, talked about the long auditioning process she went through to land the role of Syrena and why she decided to stay out of the sun as much as possible while shooting in Hawaii.
What was the auditioning process like for this huge blockbuster movie?
The first was a casting audition in Paris. It wasn't easy for me because at that point my English was really, really bad. I did a quick scene but knew nothing about the character. They didn't even tell me it was a mermaid, but I guessed because the name "Syrena" sounded like "mermaid" in Spanish ("sirena"). During the audition I wasn't expecting anything. I never thought I would be auditioning for a huge blockbuster English movie like Pirates of the Caribbean. It was just unbelievable to think I could get the part.
I'm guessing there was more than one audition you had to do?
Yeah, the second came four days later in L.A. It was my first time there. It was in front of [director] Rob Marshall and [producer] Jerry Bruckheimer. I was really nervous, but they made me feel really comfortable. They were really welcoming and lovely with me.
Did you go home thinking you had done enough to earn the part?
When I flew back to Paris I had this sensation that I did my best. I came back hoping I would get to work with these fabulous people. After that, my agent called me again to say there would be one more audition in London. I was like, "Oh my God, again?" After 10 days I went to London and the day before the audition my agent called me and told me I got the part. I didn't think it was real. I was supposed to do an audition the next day. I was trembling and screaming in my hotel room.
As you started to learn more about your character, what did you like about her?
I really liked the way they imagined the mermaids in the movie because they are closer to the original legends like in "The Odyssey" from Homer. I liked the fact they are the enemy. They are creatures that take the form of beautiful women who charm sailors and then kill them. I was interested in that. I was also interested in my mermaid because she is a bit different. She has a different side to her. It's exciting for an actress to work on a character like that.
Is it true while you were shooting in Hawaii you tried to stay out of the sun as much as possible so you wouldn't get a tan?
Yeah, because I knew that for the continuity it would be really hard for everyone if they had to work with someone whose skin color was always changing. But it's impossible not to get sun in Hawaii even if you wear a hat and sunscreen, so it was difficult. This mermaid was really pale because I imagined her living really deep underwater. Usually mermaids just come out at night.
Had that ever happened to you before?
Yeah, I had some bad memories from another movie. I had lunch outside in the sun one day. It was a huge problem for the movie. I was red. It was kind of tragic. I didn't want something like that to happen again.
In the film you help Capt. Jack Sparrow look for the Fountain of Youth. If you were ever given the chance to drink from the fountain and be young forever would you do it?
No because I love life and I'd like to live every minute of it. I think life is more interesting if you take it each step of the way.