Ben Olivo
The machacado with egg at Los Arcos.
Reposted with permission from The Tacoist.

How did I discover Nacogdoches Road just last week? I've driven on Perrin Beitel Road, but never to where it turns into Nacogdoches. It's like the SW Military Drive of the north side. It's definitely more working class than any neighborhood I'd associate with the area. All those taquerias and tire shops. And not just a Culebra Meat Market, but also a La Michoacana Meat Market.
We picked Taqueria Los Arcos — a tiny place in a retail strip that's wedged between a pho restaurant and a Rios Golden Cut, the chain where I went for all my 'dos during my elementary and middle school years. The tiny restaurant fills up with people standing around, sometimes directly next to you, waiting for to-go orders.
And for good reason. The tacos at Los Arcos were very good across the menu. I find this to be unusual. At most taquerias, taco quality usually fluctuates — certain tacos they will have mastered, others not so much. The six tacos we ordered at Los Arcos were all way above average — not one distinguished itself from the other. No standout.
If I had to nitpick, I'd single out the flour tortillas, actually. They were more doughy than they were pliable. For me, a perfect flour tortilla you should be able to grab from the sides and twist with ease. The tortillas here are thicker and chewier — like they never puffed up and separated on the comal.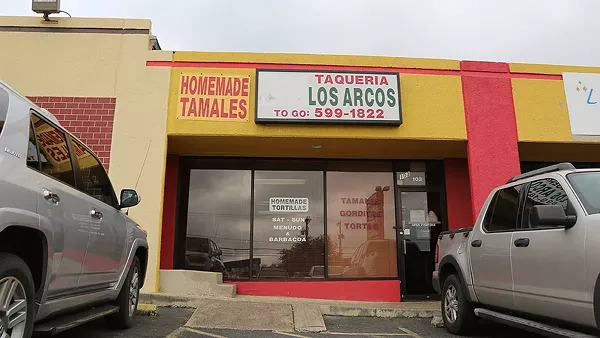 Ben Olivo
Los Arcos is located on taqueria-heavy Nacogdoches Road.
But, again, the fillings were all high quality.
The chilaquiles had crispy chips and the other ingredients mixed beautifully with the egg. The shredded cheese was one of those prepackaged medley deals with stringy strands of white and various yellows. I prefer — I think we all prefer — the thicker-shredded nuclear cheddar cheese (to steal a descriptor from Anthony Bourdain).
The beans in the bean and cheese had good flavor and were light in a corn tortilla that was soft with medium thickness. The papa chorizo was about as good as papa chorizo gets, well-done potatoes lightly coated in chorizo and not at all greasy. The sausage in the country and egg was clearly a higher quality brand of sausage. The carne guisada had hints of tomato paste and chili powder — a sign that they're putting in the effort — and therefore had the complex flavor that's required with this stew. The machacado was well balanced with curiously seasoned meat. Cumin, perhaps.
Any of these tacos could be enhanced with its two hot sauces — your typical Serrano-based green and chile de arbol-based red.
If it hadn't been for the disappointing tortillas, Los Arcos would be high on my list of best taquerias because the fillings were that good. You must understand, these aren't bad tortillas. They do just fine. But they definitely are far from being the best.
Now, I can't wait to explore the rest of Nacogdoches.
Los Arcos, 13777 Nacogdoches Road, (210) 599-1822


Visit The Tacoist for more snapshots of San Antonio taquerias.