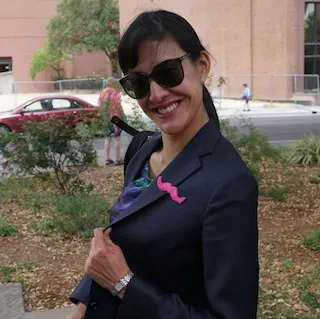 Annabel Chang is a public policy manager at Lyft, based in San Francisco.
The San Antonio Police Department along with the City Transportation Committee and taxi companies were introduced to the phenomenon of ridesharing in April.
Ridesharing is a service that provides shared rides on a short notice. It can be likened to match.com, in that is connects people who need a ride with people who can give them a ride, correlating with Lyft's mantra "your friend with a car." Lyft is a community brought together by their app which facilitates ridesharing, enabling people who need a ride to be connected with drivers. It formally falls under the category of a Transportation Network Company, coined by California.
Upon downloading the app, a user taps the "request a ride" button, and a background-checked driver will arrive within 15 minutes. You are then able to track the driver's time of arrival, whilst being provided with a photo of the driver, their name and a photo of their car. The pink mustache on the car is hard to miss.
The app encourages the user to sit in the front seat, and the driver greats the passenger with a fist-bump. Upon completion of the ride, the passenger is prompted to pay their driver, which is done through the app with a saved credit card. No cash is needed. Passengers and drivers then rate each other; if the passenger rates the driver with three stars or less, they will no longer be paired with that driver, the same goes for the driver.
The City Council Public Safety Committee Meeting on Wednesday, May 7, convened to hear public opinion of ridesharing. Not surprisingly, taxi companies, as well as the Police Department are in strong opposition to the ridesharing company Lyft. The main point of contention being the company will take business from taxis.
Speakers also cited that Lyft as of now does not comply with the Chapter 33 taxi ordinances. Several speakers on Yellow Cab's behalf affirmed Lyft is putting constituents in danger, making them unsafe, despite the background checks and vehicle inspections that the Lyft representative stated are more extensive than San Antonio's.
The point was also made that laws are meant to evolve, and that the role of politicians is to ensure the evolution of laws. In response to taxi drivers claiming Lyft discriminates against the disabled, a Lyft passenger offered her testimony of being picked up by two drivers who brought a step to help her get into the car upon her informing them of her disability. Lyft also stated a system to offer assistance to those with disabilities is in the process of being established.
Lyft asserts it is not a Transportation Company, but rather a Technology Platform. Notably, a taxi driver turned around from the podium, yelling at the Lyft drivers that they "are barbarians attempting to take over San Antonio" and that "you didn't even ask our permission to be here." The owner of Yellow Taxi spoke at one point followed by a throng of at least 10 supporters, firmly opposing any change to the Chapter 33 Ordinance.
The Police Department recommends, "establishing a 'Work Group' comprised of a local representative from a taxi cab company, a limousine company, transportation network company and the transportation advisory board to meet with City staff to draft revisions to Chapter 33 to permit Transportation Network Companies to legally operate in San Antonio," which the committee appeared to be leaning towards.
Even so, Councilwoman Shirley Gonzales and Police Chief McManus expressed their dubiousness of a compromise being reached. Gonzales noted the transportation ordinance took 10 years to establish.