This season, Texas monster prints pressed by steamrollers are being made by crews in SA, Austin, and Houston. Sang-Mi Yoo's installation, "The Anomalous Traces," isn't that stuff, but rows of tall lithographs and laser-cut felt. They're huge, the size of plywood sheets. The allusion to construction materials is on spot, given that the work's topic is housing. Using a laser, Yoo has cut outlines of floor plans and architectural renderings into massive pieces of hanging felt, which sag with their weight like wet
papel picado
along the walls of UTSA Satellite Space in Southtown. Raking lights cast severe shadows from the cut felt onto backing paper, making a tri-color display that is perfectly replicated in lithographs of the felt works that are mixed in with their three-dimensional doubles. Marching through the room like house rows in suburbia, the room is filled with an unsettling blend of real and depicted material that undermines the viewers' belief in their senses. It questions other judgements, too.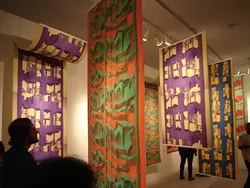 The series is the latest installment in, "New Village," Yoo's ongoing project that dwells on childhood memories and mass housing. The title refers to a planned development in Yoo's home country, Korea, but the construction references can't help but remind one of this country's housing bubble, and the resultant economic debacle. The project might also draw attention to the equation between new schools and new housing. That government support for education has been slashed as a response to economic woes seems not only short sighted for the future, but made with the wisdom of a sandbox spat. It casts suffering on the generation of children who might have lived in the overstock of empty houses, rather than the cynical market that built them.
In counterpoint to Yoo's vivid colored works are black ink linoleum prints by Juan De Dios Mora. Though born in Mexico, Mora's work is reminiscent of that by SA print maker Albrechto (Albert) Alvarez, so I'll call both their work Tejano gothic.
¡Fijate No Mas! I Can Tell It's Customized!, is Mora's MFA thesis show for UTSA. The dark works are filled with atavistic elements that seem to belong to some out-of-date vision of the future, blending invention and absurdity. In humorous but dauntingly crafted scenes, bizarre contraptions propel riders through the sky or thrust heroes across barren landscapes. Like a drunken child's imaginings, wonderful but rickety conveyances are chosen: gladiator chariots, flying brooms, and fantasy choppers. Welcome to
la frontera
, the Mexican-American border, where everyone makes do with what is at hand, twisting stories and broken parts together to make contrivances to pull themselves through the days. Everything is doomed to fall apart, but in the meantime, hold on tight for the ride of your life.
¡Fijate No Mas! I Can Tell It's Customized!
and
The Anomalous Traces,
Free, by appointment,
UTSA Satellite Space,
115 Blue Star,
(210) 212-7146.
On view to Nov 20.
-Scott Andrews
, sandrews@sacurrent.com