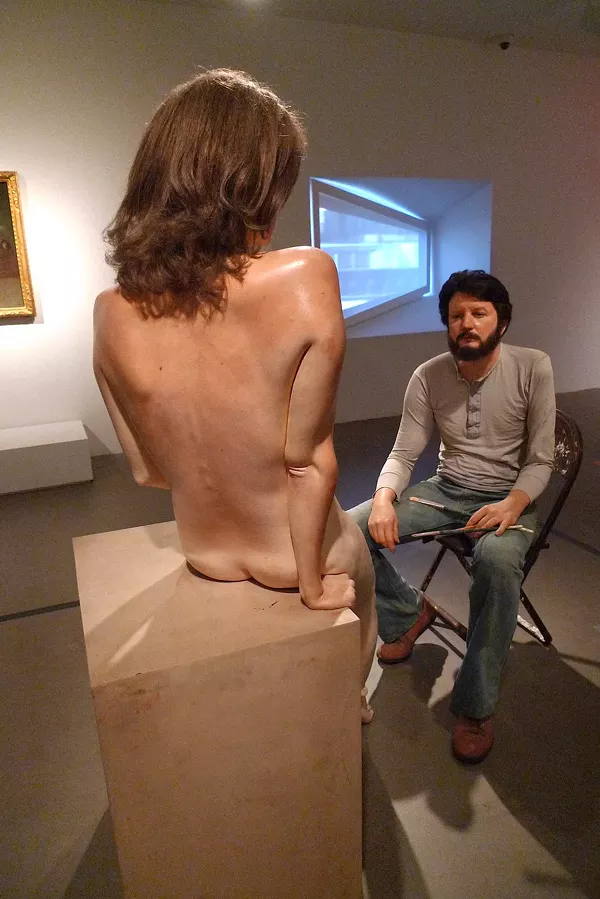 Ruben C. Cordova
"Self Portrait with Sculpture"
On the morning of November 16, San Antonio-based curator and art historian Ruben C. Cordova learned that his Facebook account had been permanently deactivated.
Cordova, who had visited the Metropolitan Museum of Art's recent exhibition "Like Life: Sculpture, Color, and the Body (1300–Now)" earlier in the year, had just uploaded to the social media site an album of photos dedicated to his trip. Among the shots were images of a sculpture depicting a nude female figure, John De Andrea's Self Portrait with Sculpture. The image triggered Facebook's censors — and later, a human moderator who apparently confused the image for a photograph of a real human.
Facebook's official policy states that the company does in fact "allow photographs of paintings, sculptures, and other art that depicts nude figures." While Cordova's images didn't violate Facebook's policy, he found that appealing the decision is nearly impossible. In the blink of an eye, he realized that nearly nine years' worth of his research, including thousands of photos, links, reviews and professional contacts, had been lost. He often used his Facebook photo albums during university lectures and public talks and is still trying to regain access to his account.
It's hard to believe that a photograph of an artwork created in 1980 would get anyone banned on social media in 2018.
"Ironically, of all of the nudes in sculptures that I have uploaded to Facebook, the De Andrea was the only one that the Facebook algorithm blocked," Cordova told the Current. "I believe the algorithm read it as a picture of a real person, which is not allowed on Facebook. I suspect they view photography of real people as a Pandora's Box for pornography."
While Cordova's case is no doubt an error on Facebook's behalf (or perhaps an overworked employee hastily reviewing 25,000 images per day — we don't know), it nonetheless raises the question of how the public interacts with sensitive subject matter and the manner in which galleries, museums and even public platforms like Facebook should display such work (and whether they should display it at all). As hate speech, online bullying, sexual harassment and fake news become more prevalent in the digital age, we should expect our institutions to keep us safe from predatory behavior while respecting everyone's right to free speech and artistic expression.
The issue of when, where and how to present the nude figure has been a constant throughout Western history. From Édouard Manet's 19th-century icon Olympia to Robert Mapplethorpe's nude figures of the 1980s and even Janet Jackson's 2004 "wardrobe malfunction," nothing riles up a crowd faster than an unclothed figure. But there are other issues as well, from depictions of sex and violence, to images explicitly referencing race, class and gender, that galleries and museums must grapple with when presenting artwork to the public.
Ruben C. Cordova
"Self Portrait with Sculpture"
Although De Andrea's Self Portrait with Sculpture has faced little controversy since it was created over three decades ago, the same cannot be said about the Metropolitan Museum of Art. Just last year, the museum was embroiled in controversy when it presented an exhibition of photography by an artist who was recently accused of sexual misconduct. However, the institution was commended for the manner in which it handled protestors — inviting them to an open discussion at the museum — and for creating a precedent for other museums on how to handle difficult subject matter.
The following are examples of San Antonio-connected artists whose work tested the limits of what art institutions and public officials are willing to display on their walls. While censoring artwork almost always results in unwanted attention for galleries, encouraging open discussion among the community is perhaps a better practice. The artists presented here are not aiming simply to provoke, but to create a dialogue between artist and viewer.
Esperanza Peace and Justice Center v. City of San Antonio
The Esperanza Peace and Justice Center has served as a voice for the LGBT community, women and minorities for more than 30 years. In 1988, the Esperanza presented "The AIDS Series," one of the first exhibitions in the city to address the epidemic during a time when the subject was considered taboo. The following year, the Esperanza mounted its inaugural lesbian and gay art exhibition. In 1993, one day after the opening of its fifth annual show, the organization was evicted from its original location on Flores Street, no doubt due to its pro-LGBT stance. In an effort to avoid further evictions and controversy, the center purchased its current building at 922 San Pedro Ave. Although it was paid off within six years, largely through community fundraising efforts, the struggles for the Esperanza were not over.
In 1997, city council voted to cut funding from the organization on the grounds that its social justice work was political rather than artistic. Speaking to The New York Times, then-mayor Howard Peak said he did not believe the Esperanza was working for the greater good of the community.
"They seem to go way beyond what people want their money spent on," he said. "It's an in-your-face organization."
Four years later, a federal judge ruled that the city's actions were unconstitutional, resulting in a $500,000 award to the Esperanza. The ruling echoed the famous 1998 National Endowment for the Arts v. Karen Finley case in which the Supreme Court stated that the government is free to decide whether or not to fund the arts but must do so in a "viewpoint-neutral manner" that does not discriminate on the basis of recipients' ideology.
Interestingly, the City of San Antonio would mount its first-ever exhibition of LGBT artists in the summer of 2018, more than two decades later. Titled "We Are," the exhibition featured several emerging artists alongside well-established community figures such as David Zamora Cases and Antonia Padilla. In a press release, Mayor Ron Nirenberg proudly proclaimed, "This exhibit is a reminder of the experiences, the struggles and the realities of our LGBTQI+ community."
Ángel Rodríguez-Díaz, Adam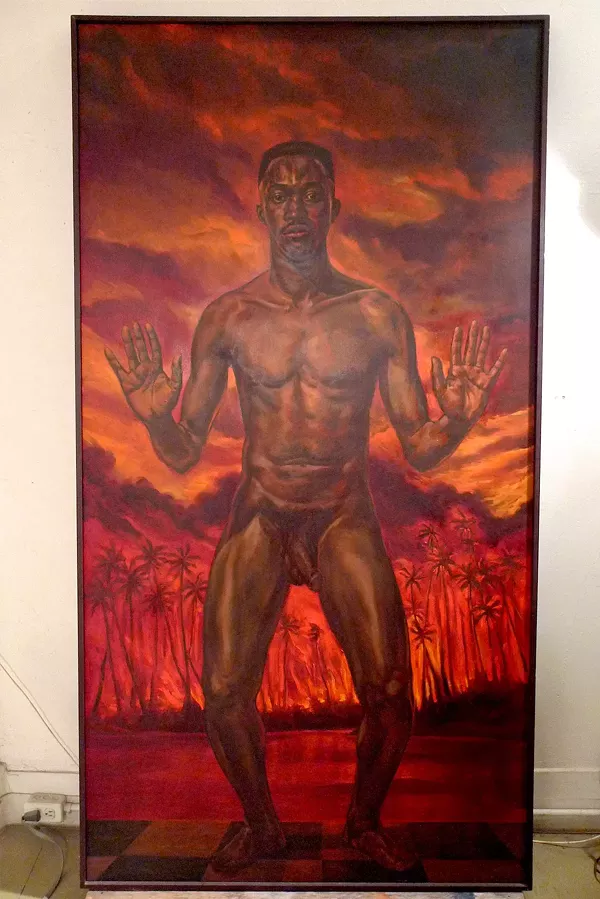 Ángel Rodríguez-Díaz
"Adam"
In 1992, Ángel Rodríguez-Díaz's painting Adam became a cause célèbre when it was censored in a New York City exhibition. Intended as a critique of racial oppression in the Caribbean, the large-scale portrait depicts a nude black man who appears to be leaping out of a tropical fire. (Rodríguez-Díaz was born in Puerto Rico). Friends of the artist, from writer Sandra Cisneros to NPR's Maria Hinojosa, publicly came to the painting's defense. Eventually, the artist would quit painting male nudes because most galleries would not display them.
In 2017, FL!GHT Gallery presented "El Mero Chile/The Full Monty," the first exhibition to focus on Rodríguez-Díaz's male figures. In a 2004 oral history interview for the Smithsonian's Archives of American Art, Rodríguez-Díaz revealed that he believes Americans have become "so prudish" that they are afraid to challenge public opinion.
"I find that that's part of the role of the artist," Rodríguez-Díaz said. "To challenge all kinds of values and all kinds of ideas, because that's how we grow as people, we develop in our culture."
"The Full Monty," which Cordova curated, was one of several exhibitions presented across the city honoring Rodríguez-Díaz. "There are few public venues in San Antonio that will show male genitalia, so I am grateful that FL!GHT was willing to do that exhibition," Cordova told the
Current
.
He says there are several things that a gallery can do when presenting sensitive subject matter.
"If nudity per se is an issue, you can place a sign at the entrance to the gallery," Cordova said. "This was a practice in San Antonio for many years, and it has been used in other cities as well. I think it is also crucial to interpret a work and give it a context within an exhibition or an installation. A label can justify and rationalize the inclusion of a work, and — at least potentially — diffuse opposition. In my 'The Other Side of the Alamo' exhibition that closed recently at the Guadalupe, I wrote a lengthy label for every artwork."
Alejandro Augustine Padilla, Strip Copper, Then Die
San Antonio artist Alejandro Augustine Padilla's sculptures and paintings often draw from dark subject matter. A largely self-taught artist, Padilla's work is influenced by artists as far-ranging as the neo-expressionist Jean-Michel Basquiat to the surrealists Yves Tanguy and Luis Buñuel.
In early 2017, Artpace commissioned a group of artists from the 1906 arts complex on South Flores (which included Padilla), to create a series of artworks that would be used as centerpieces during the nonprofit's annual fundraising gala, The Happening. At the time, Padilla was doing a large series of drawings (about 80) dealing with his experiences as a child who grew up poor.
"That's when they came to us at 1906 and asked if we would do the centerpieces," Padilla said. "I didn't want to shift gears and concentrate on a commercial piece, so I just continued that on to the centerpieces. The only specifics that they gave us were that it had to be a centerpiece and that they were going to put flowers in it or around it … They said we could do whatever we want, and we did."
But while everyone else created decorative centerpieces, Padilla's work, a ready-made wooden box, depicted graphic images and text referencing socioeconomic status. Written within two compartments inside the box were the terms "Dad" and "Son." The phrase "Strip Copper, Then Die" appears inside the middle of the box with a red arrow pointing toward "Dad." Images of beer cans, beer bottles and cigarettes appear throughout. Scribbled on the outside of the box was the word "Clonazepam," a medication used to prevent seizures and anxiety disorders.
"Stripping copper is one tough, illegal way to make extra cash," Padilla said. "I knew a lot of adults around me who did it."
Just days before Artpace's annual gala, the organization returned all of the artists' work and decided not to use it. While Padilla says he "wasn't privy" as to why the artwork was returned and that he "didn't really look into it much," he also says others have suggested it was a case of censorship. It's hard to fault the nonprofit for not using Padilla's work during its gala, but it's also a reminder of how arts organizations may have to answer to their biggest donors.
"My art is always reflective on myself, so I'm really just reporting what is real," Padilla said. "I'm not making up stuff just to be controversial. … You kind of just put yourself out there. … You can't worry about whether people are going to be offended or not. There are people who come into my studio who will make an ugly face and walk out. ... I'm not looking to please everybody."
Mark Anthony Martinez, Off-White Power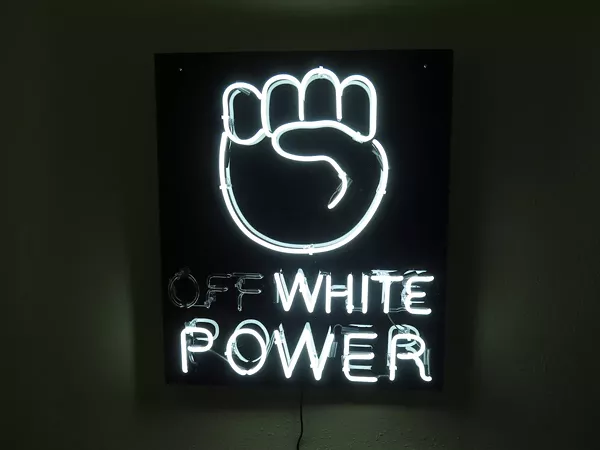 Mark Anthony Martinez
"Off-White Power"
Austin-based Mexic-Arte Museum's annual Young Latino Artists (YLA) exhibition is known for introducing emerging artists to the public and turning out some of the of the most exciting artwork in the state. For the 22nd installment, however, the museum decided one of the works by a featured artist was too much for the public to handle and removed it from the show.
San Antonio-based artist Mark Anthony Martinez created a series of neon signs, each with a phrase that referenced race and identity. Some of My Best Friends Are White read one sign. No More White Friends read another. But it was Off-White Power (with the word "Off" unlit) that the museum refused to hang for fear that it would be misconstrued as a work supporting white supremacy.
According to Martinez, "Off-White" references his own complexion and identity as a Mexican American. Speaking to the Austin Chronicle, Martinez explained that when "brown people don't know their history," a part of the sign is off and we are left with white supremacy or white power. In other words, ignorance allows racism to thrive. Even after Martinez offered to write a lengthy label providing more context to the work, the museum still declined to include it in the show.
"It's unfortunate because this is a show that's dedicated to uplifting young Latino artists, and emerging artists, and they're in a position where they would rather silence," he said.
Convinced that Off-White Power should be viewed by the public, Martinez and YLA curator Alana Coates presented a new exhibition at San Antonio's Freight Gallery in early 2018 that would boldly feature the type of work the museum was unwilling to show. Titled "Images of Power," the exhibition centered on Martinez's Off-White Power and featured 26 artists from across the country. In the exhibition catalog, Coates wrote, "'Images of Power' was organized to honor the artworks rejected from the previous exhibition, as well as to create a platform for discussion both verbally and visually of such histories and issues."
Vincent Valdez, The City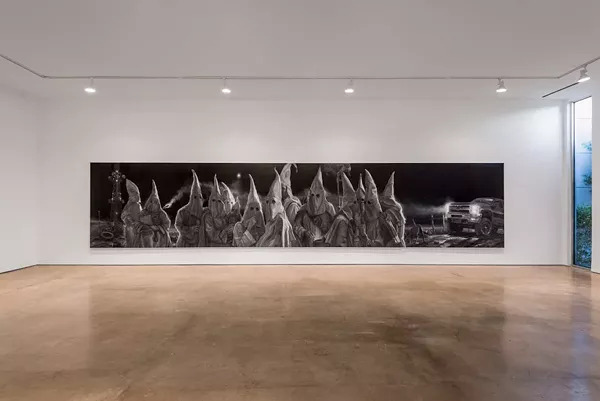 Vincent Valdez
"The Beginning Is Near"
In the summer of 2018, Houston-based San Antonio artist Vincent Valdez's 30-foot panoramic painting The City 1 made national headlines when it was presented at Austin's Blanton Museum of Art.
The black-and-white painting depicts a Ku Klux Klan gathering on the outskirts of an unidentified city. A Chevy Silverado truck and an iPhone held by one of figures places the scene within contemporary times. Much like his 2013 series The Strangest Fruit, which depicts the lynching of Mexican-American males dressed in modern attire, The City seems blurs lines between past and present.
As reported in The New York Times, the Blanton spent nearly two years preparing for the The City's unveiling, including building a special gallery with a sign warning that the painting "may elicit strong emotions." Various programs and lectures were also planned by the museum to better engage with viewers about the painting's content.
While the museum consulted with more than 100 individuals and organizations, it failed to contact the Austin chapter of the NAACP until late in the process. Nelson Linder, the local NAACP chapter president, publicly shunned the museum for waiting to reach out and expressed his reservations about the work.
"I would have shown the victims," he told the Times. "Not just pictures of the Klan, but the end result of their behavior, the black folks being lynched."
Other grievances against the painting were that it glamorized the history of racialized violence in America and that Valdez, who is Mexican-American, was only cashing in.
Speaking with the Times, Valdez said, "All I wanted to do in my painting, the story I wanted to tell was: Look around you; they're still here."
Get our top picks for the best events in San Antonio every Thursday morning. Sign up for our Events Newsletter.