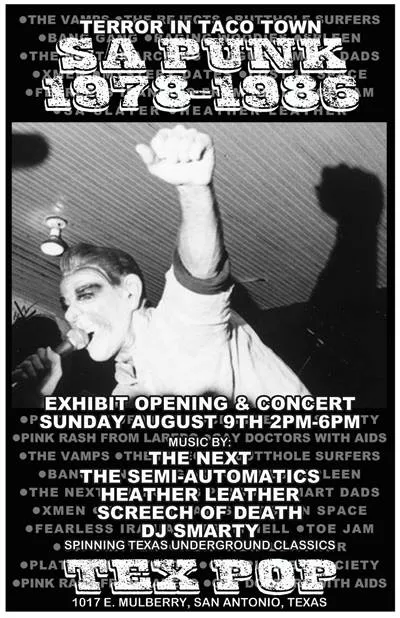 Courtesy
Tex Pop's next exhibit opens Sunday, August 9 at 2pm
Tex Pop
, San Antonio's weird little sanctuary of Texas music culture, announced its next exhibit:
Terror in Taco Town
. Opening on Sunday, August 9, the show focuses on San Antonio punk in its halcyon days from 1978 to 1986.
Like many of the gallery's exhibits, Taco Town will tell its story through gig posters, photos and newspaper articles. But to get the full story, ask Michael Ann Coker or Margaret Moser, the Tex Pop heads with an encyclopedic knowledge of San Anto music past. For Terror in Taco Town, riffing on the 1938
B-movie,
Jeff Smith of
The Hickoids
joins Tex Pop as a guest curator.
On the August 9 opening date, Tex Pop hosts a representative punk set, featuring The Next, The Semi-Automatics, Heather Leather, Screech of Death and DJ Smarty.