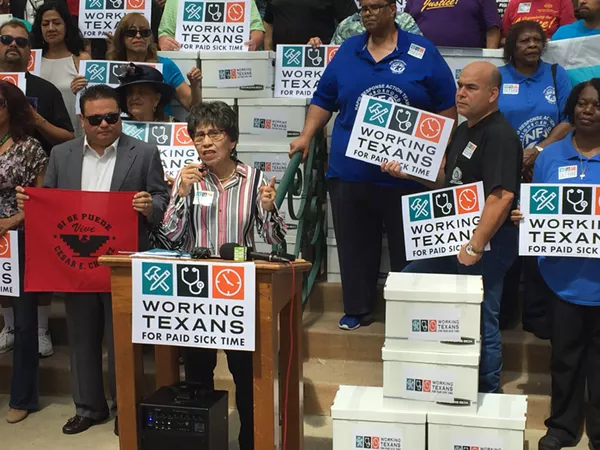 Sanford Nowlin
AFL-CIO's Linda Chavez Thompson fires up the crowd in front of City Hall after Working Texans for Paid Sick Time delivered its signed petitions to city officials.
The AFL-CIO today blasted Texas Attorney General Ken Paxton's claim that San Antonio can't pass an ordinance guaranteeing paid sick time for local workers, saying the AG is misrepresenting state employment law.
Paxton this week sent a letter to Mayor Ron Nirenberg and City Council saying adoption of such a sick-leave measure would conflict with Texas law. Minimum wage — including the amount of paid time off given by employers — is in the state's jurisdiction, the AG wrote.
However,
Texas AFL-CIO
spokesman Ed Sills said the minimum wage rules apply only to pay, not to employees' fringe benefits.
"I can't think of a single example in which a company counts a benefit like paid sick time as wages," Sills said.
Working Texans for Paid Sick Time
, a coalition of community groups and labor organizations including the AFL-CIO, conducted a petition drive that
collected enough signatures
for the proposed ordinance to proceed to Council. It also could be placed on the November ballot for voter approval.
Paxton's letter is similar to one he sent to the City of Austin after it became the first Texas municipality to
pass a paid sick leave ordinance
. That measure goes into effect in October.
Stay on top of San Antonio news and views. Sign up for our Weekly Headlines Newsletter.