Youtube.com via MillerforTexas
Sneaky Sid
By now, more than 7,000 Facebook users have shared an entirely fabricated, racist news story posted by Texas Agricultural Commissioner Sid Miller.
On Sunday, Miller posted a story by a Blogger.com website (yes, the same site that hosted your
super secret blog diary in 2004
) about President Donald Trump removing a federal judge from the "22nd court of criminal appeals" for trying to implement Sharia law in the United States. There is no 22nd court of appeals. This never happened.
It's a favorite fear among right-wing extremists to believe Muslims are trying to take over the U.S. with Sharia law, a set of guiding Islamic principles. Like scripture from the Bible, Sharia laws are interpreted very differently among Muslims — and extremists have used the laws to promote child marriage, stoning, and domestic violence.
Contrary to popular belief of far-right conservatives, the U.S. is not, in fact, being overrun by violent Sharia practices — in fact, many Muslim immigrants move to the U.S. to
escape
these extremist laws. The anti-Sharia law movement in the U.S has become
an easy way to criminalize anyone who practices Islam
(breaking religious liberty laws) or Muslims in general. But don't tell that to Miller.
"Good on President Trump," he wrote on his Facebook post.
By Tuesday, however, Miller had changed his comment to "Well it looks like I may have been duped. This may be fake news, but I still think Sharia law has no place in the United States of America."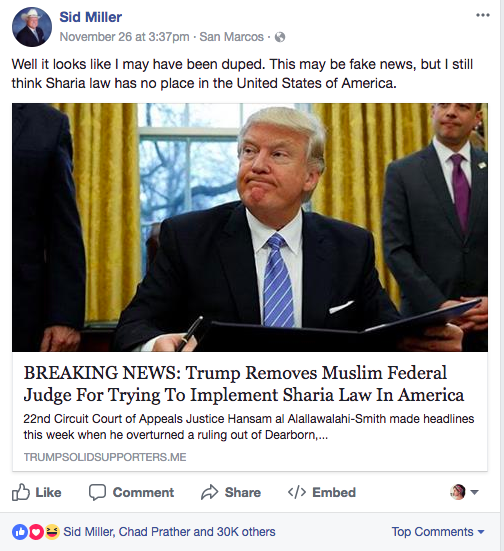 Yet he has not removed the inflammatory post. Instead, Miller's let his Facebook followers litter the comment section with racist and Islamophobic rhetoric.
"There should never be a Muslim in our Government in any capacity," writes one. "Islam is a Cancer to the Free America," reads another.
Another user, posting about Muslim population in their hometown: "there are so many islamics i though i was in Europe i am even afraid to move they are taking over ... they come out in the night no safety."
Hundreds of Miller's followers have reposted this story in the past 24 hours, despite him admitting it's fake. He's clearly fine with letting this fake news spread like wildfire.
Later Tuesday afternoon, the Texas chapter of the Council on American-Islamic Relations released a statement asking Miller to remove the post and apologize to the Muslim community.
"As an elected official and a community leader, the Texas agriculture commissioner has a responsibility to all Texans to refrain from promoting fake news that is only intended to create division and mistrust in the community," said Maira Sheikh, director of CAIR-Austin.
He has yet to respond. But should we be surprised by this dog-whistle racism from Miller?
This is the same guy who used his Facebook page to compare Syrian refugees to
a pit of venomous snakes
, casually suggest
nuking the Muslim world,
share a manipulated photo of President Obama in Cuba holding up a shirt featuring Marxist revolutionary Che Guevera (he didn't),
declare that Islamic terrorists are training in rural Texas
(they weren't), and post a fake story about a landlord who told his tenant to take down an American flag because it offends Muslims. Oh, and he's
called Hillary Clinton a "cunt."
He's like that old conservative uncle you have that somehow deeply distrusts the internet while also believing everything on it is 100 percent true. Except, unlike your cringeworthy uncle, Miller is an elected official with 600,000 Facebook followers.
In the words of a no-bullshit commenter: "You are holding a government office and you can't do even the most basic analysis of a story before spread it? You're supposed to know American law, especially if you're scared of Sharia law."