This morning, the coalition of reproductive health groups fighting against Texas' anti-abortion law filed to appeal their case to the U.S. Supreme Court.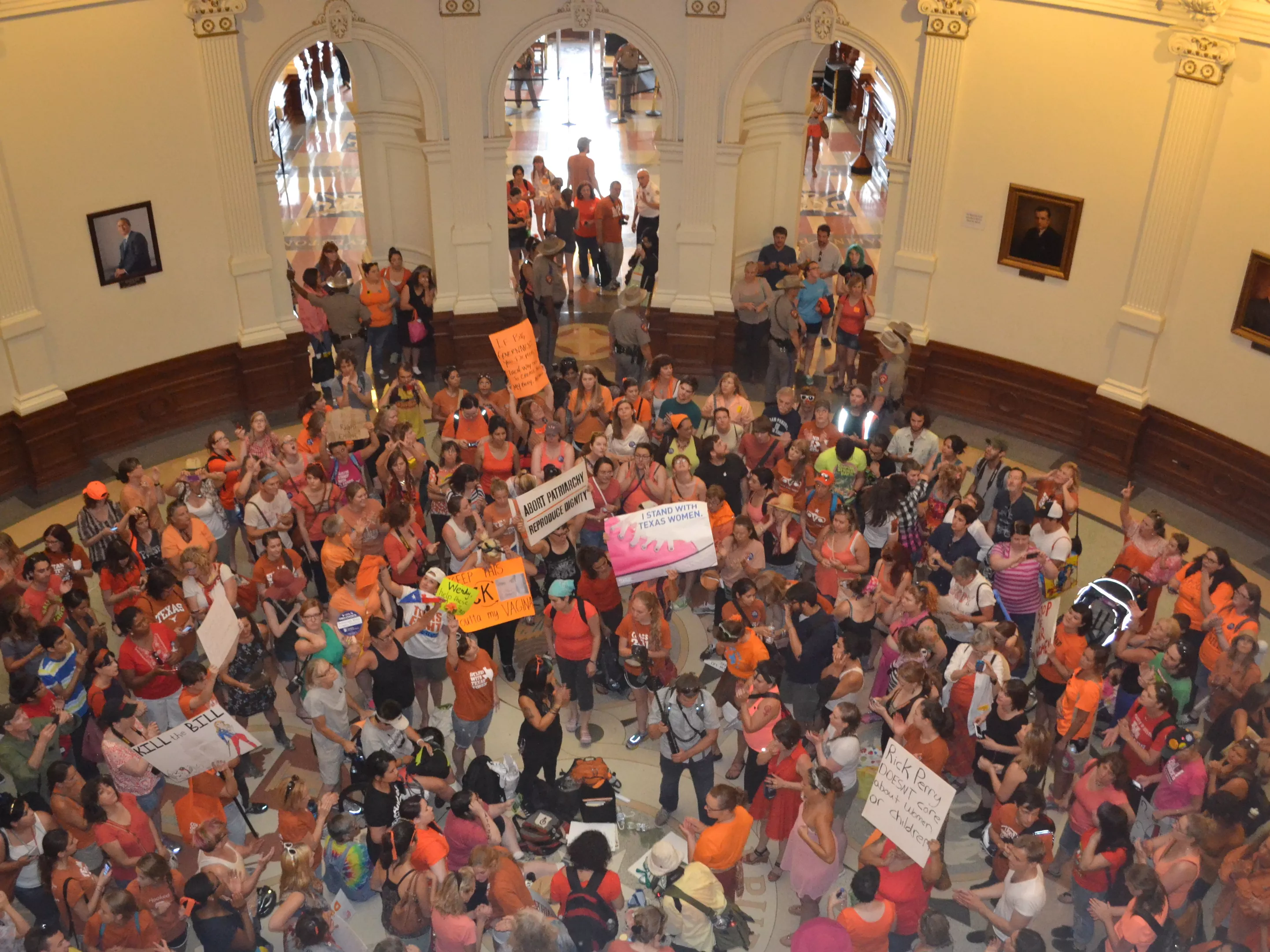 The emergency application asks the Supreme Court to reinstate an injunction halting the law, granted by a federal judge last Monday. U.S. District Judge Lee Yeakel found a section of the four-part law requiring doctors to obtain admitting privileges at a hospital no further than 30 miles of where the procedure is preformed to be unconstitutional and without rational basis. The state appealed the ruling, sending it to the conservative-leaning Fifth Circuit Court of Appeals, where a three-judge panel struck Yeakel's ruling down. The law went into effect on Nov. 1.
Making up two-thirds of all abortion providers in the state, plaintiffs include Planned Parenthood and Whole Woman's Health, represented by the Center for Reproductive Rights. They argue the decision to allow the law to stand is already causing women to suffer and will ultimately leave one in three women without access to abortion care, shutting out an estimated 20,000 abortion-seeking patients annually. As the Current reported Friday, since the law took effect, at least 45 women have been turned away from abortion services on the first day of enforcement. Ken Lambrecht, president of Planned Parenthood of Greater Texas, told media during a conference call this morning that the health provider was forced to reschedule roughly 100 patient appointments. Lambrect said patients were "scared," "angry" and unsure of how to make the long trip to an alternate provider. The coalition estimates anywhere between 12-14 Texas abortion clinics have refrained from providing abortion care, as of this morning.
In their filing, the reproductive health groups contend the Fifth Circuit ignored the law's "indisputable harm" to patients. They contend the appellate court's decision is the "outlier" among cases of this type. Indeed, they write, the "Fifth Circuit is the only court to allow a local admitting privileges requirement to take effect despite evidence that it would force numerous women's health centers to stop providing abortion care." Additionally, the application argues the circuit court ruling runs "directly contrary" to abortion law precedent set by SCOTUS.
"Right now, women in vast swaths of Texas are being turned away at clinic doors because of a bogus law that attempts to do underhandedly what states cannot do directly — block women from accessing abortion services, " said Nancy Northup, president and CEO of the Center for Reproductive Rights in a statement about the SCOTUS filing. "We now look to the Supreme Court to protect women's access to these essential health care services while we fight this critical court battle."
SCOTUS, geographically represented by Justice Antonin Scalia, has given the state until Nov. 12 to respond. Scalia could make the decision himself or refer the application to the entire court. If Scalia reinstates the injunction it will only temporarily stop the law until the Fifth Circuit hears the entire case in January. At that point, the side that does not prevail could conceivably petition SCOTUS for review.
Reproductive health groups are disappointed clinics and patients will be forced to wait a week for a decision. They point out abortion clinics, usually small businesses with limited staff currently in limbo, will likely close as result. They say they're hopeful the high court will put the injunction back in place, albeit temporarily, pointing to today's move by SCOTUS that let a ban against Oklahoma's abortion medication legislation (similar to Texas' own law which went into effect last week) stand.
In the meantime, patients struggle with the immediate impact of the law.
Marni Evans, a 37-year-old freelance consultant from Austin, underwent a state mandated ultrasound 24 hours before her scheduled abortion procedure at Planned Parenthood. But Evans, like dozens of other women last week, received a call Thursday evening informing her she would have to reschedule. Evans, "terrified" of getting entangled in red tape, says she went so far as to book a flight out of state to secure an abortion, financed by frequent flyer miles she was saving up for her Honeymoon.
"I was devastated and I was also disappointed," said Evans during a media conference call this morning coordinated by the plaintiffs. "I had no idea what to do next– I'll have to start the whole process over again."
Evans remains pregnant today, because the choice she spent weeks deciding with her fiancé after careful "soul-searching" was ripped from her hands. Despite the painful news, Evans recognizes that she at least has a contingency plan.
"I can't help but wonder what less fortunate women will do," she said.
Read the filing via Scribd here: Planned Parenthood v Abbott Emergency Application