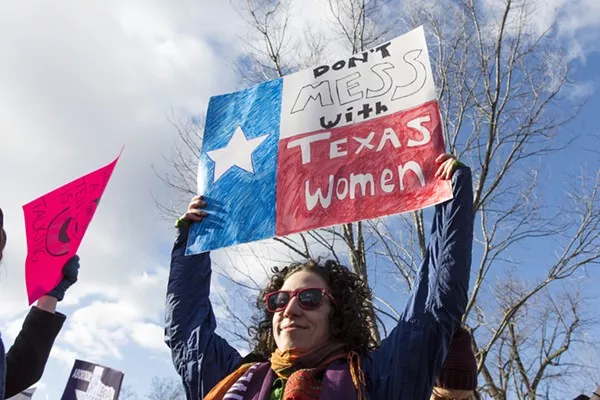 Lorie Shaull via Whole Women's Health
It's almost become a Texas tradition: Write a sweeping, medically inaccurate anti-abortion bill, get it signed into law, immediately get slapped with a lawsuit from the state's top women's health care providers, and dive into a lengthy trial. That trial officially kicks off this week for Texas' latest anti-abortion law, Senate Bill 8.
SB 8, a product of the Texas Legislature's most recent session, would prohibit an abortion procedure called "dilation and evacuation" (or D&E), the safest and most common form of an abortion after around 13 weeks into a pregnancy. There is no exception in cases of incest or rape. The only alternatives to D&E are inducing labor to make a woman deliver the fetus or go under the knife for a procedure similar to a hysterectomy — both procedures that physicians say are incredibly risky and expensive.
Health care professionals also fear SB 8 would push women to take their abortion into their own hands by taking untested drugs, illegal pills, or inflicting physical abuse on their own bodies to induce a miscarriage.
Along with banning the safest second-trimester abortion, SB 8 would require clinics to cremate and bury the remains of an abortion (usually no more than a quarter-sized mass of fetal tissue) even if the mother objects, and would prohibit hospitals from donating aborted fetal tissue to medical researchers. The lawsuit, however, only addresses the D&E ban.
Planned Parenthood Federation of America and the Center for Reproductive Rights
sued the state in July
, shortly after Governor Greg Abbott signed SB 8 into law. The two reproductive rights powerhouses are representing four Texas physicians and the state's leading abortion clinics: Whole Woman's Health, Alamo City Surgery Center, Southwestern Women's Surgery Center, Nova Health Systems, and Planned Parenthood Centers.
In late August, U.S. District Judge Lee Yeakel
temporarily blocked
the law from going into effect on September 1. Thursday morning, the plaintiffs returned to Yeakel's Austin courtroom to request the bill's D&E ban be permanently blocked. The trial is expected to last until Nov. 8.
Yeakel hinted at how he may rule on SB 8 in his August decision — by essentially reminding the state that abortion is legal.
"The state cannot pursue its interest in a way that denies a woman her constitutionally protected rights to terminate a pregnancy before the fetus is viable," he wrote.
A reminder: The last time Texas was taken to court over an anti-abortion law, it lost —
in the highest court in the country
, no less. Will state officials lean on taxpayer dollars to take their anti-abortion stance that far again?