This year the Texas Biennial, billed as "an independent survey of contemporary Texas art," has busted out of  Austin to include shows in three cities. Home base is Big Medium in Austin, with Houston's BOX 13 ArtSpace and Blue Star Contemporary Art Center here in SA adding extra venues and art communities to the project, which runs April 9-May 14.  This  fourth edition of the show is curated  by NY based art historian and art lawyer Virginia Rutledge, who has chosen Tom Orr's sculptural installation
Onagadori
for the first Biennial show at Blue Star, on view till Saturday, April 16.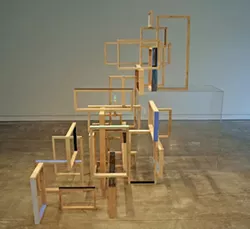 According to Orr,  "This work exists in the space between painting and sculpture. By intuitively placing, leaning and layering shape, color, shadow and light, I am looking for the moment when thought leaves the image and concentrates on idea."
Here is a close up view-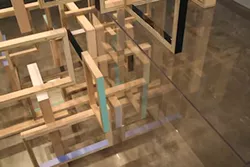 The second Texas Biennial 2011 installation at Blue Star is Jade Walker's Quadri-Poise, on view April 21- May 14 with an opening reception May 5. More info at bluestarart.org and texasbiennial.org.