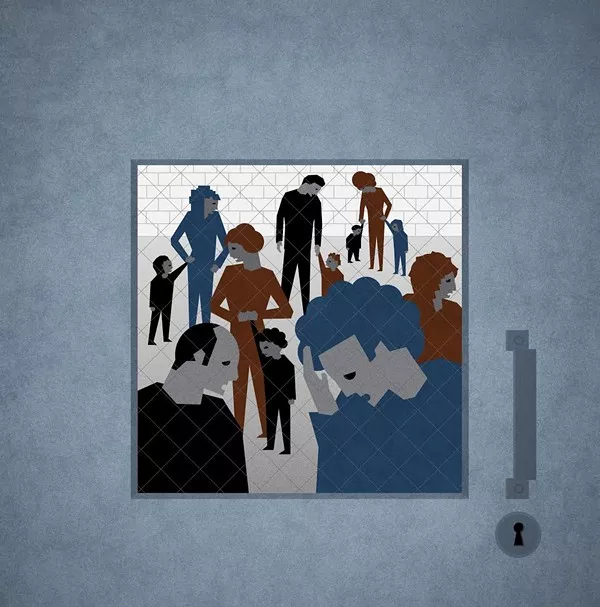 Texas can't lower its standards in order to license a couple of South Texas immigration lockups run by private prison corporations.
That's the result of a final judgement issued by a Travis County judge late Friday in a lawsuit triggered by the state's unusual decision to license immigrant detention centers as child care facilities. In her final ruling, Judge Karin Crump said that allowing the Texas Department of Family and Protective Services to give family detention centers the state stamp of approval "runs counter to the general objectives of the Texas Human Resources Code."
The new rules, which specifically exempted the family detention facilities from certain longstanding state requirements for child care centers, were created by DFPS earlier this year over loud opposition from immigrant rights advocates, attorneys who represent asylum-seeking women and children in the centers and child welfare experts. In hearings before state regulators, mental health advocates who'd toured the family detention centers in Dilley and Karnes spoke of children losing weight, shedding hair and exhibiting symptoms of anxiety and depression in lockup. Some of the attorneys and advocates working at the sites claimed health care was so bad that some kids had to be hospitalized once they were released.
While Judge Crump's ruling doesn't necessarily close lockups in Karnes or Dilley, which are run by private prison giants Geo Group and the Corrections Corporation of America, it could eventually make it harder for the feds to keep them open.
Many were stunned when federal government resuscitated the practice of family detention in 2014, after large numbers of Central American women and children started showing up on the southwest border to plead asylum. The federal government's last foray into family detention had ended in 2009 when they were forced to pull kids out of CCA's Hutto detention center in Central Texas following a legal battle with attorneys representing families detained inside. Attorneys described conditions that violated even the feds' own minimum standards for housing children – kids forced to wear orange jumpsuits, sleeping with the lights on and locked in cells for hours at a time, receiving up to an hour of school every day.
But by 2014, the feds couldn't figure out what else to do with all the new asylum seeking women and children. And, with a directive from the top that detention become an "aggressive deterrence strategy" to stop the flow of migrants, the feds tapped Geo and CCA to run family detention centers in the desolate South Texas towns of Karnes and Dilley, together capable of holding some 3,400 women and children at any given time.
Thus came another federal court challenge over the issue of family detention, and last year, a federal judge in California again condemned the practice, issuing a scathing ruling that advocates had hoped might again force the feds to phase out large-scale family detention entirely.
And then the state of Texas swooped in to help out, offering to license Dilley and Karnes and designate them state-regulated child care centers. Many had worried state licensing could help the feds wiggle around the federal court ruling that had threatened to shutter the centers.
Grassroots Leadership, a nonprofit that opposes private prisons, filed a lawsuit earlier this year to block state licensing of the centers. Jerry Wesevich, an attorney with Texas RioGrande Legal Aid who represented Grassroots, said that state licensing of detention centers was never about ensuring the welfare of children. "The state's executives admitted in documents and testimony that DFPS wanted to license these facilities to help the federal government, and not the children," Wesevich, said. "Motive matters and we believe it was the key to the case."
"The conditions at Karnes and Dilley are equivalent to prisons, not childcare facilities," said Grassroots director Bob Libal. "We are glad the court heard our concerns about the damage that family detention does to mothers and their children and how lowering standards to issue licenses to these facilities only exacerbates that harm."
Libal also asked that the Obama Administration "end the practice of detaining immigrant families once and for all."