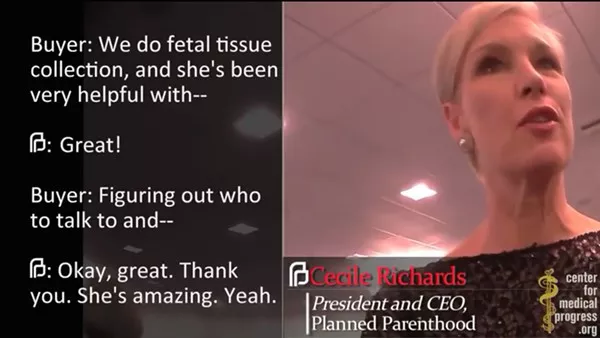 YouTube | Screegrab
This image shows Planned Parenthood President and CEO Cecile Richards in a heavily doctored video that's prompted the State of Texas to amp up its harassment of the organization.
The State of Texas' campaign to wipe Planned Parenthood out of the Lone Star State continued this week as officials targeted HIV prevention in Houston.
The
Houston Free Press
reports that the Texas Department of State Health Services
sent Planned Parenthood Gulf Coast a letter saying its contract for the three-decade-old program that funds HIV testing, counseling, condom distribution and referral services — to the tune of $600,000 a year — will expire on December 31. The money, however, doesn't come from the state. It comes from the federal Centers for Disease Control and Prevention, but is administered by the state, the
Houston Free Press
report notes.
The Texas Tribune
reports that Planned Parenthood Gulf Coast
has used the funds to provide more than 138,000 HIV tests, helping identify 1,182 people with HIV since 2014.
The Houston Free Press notes in its story that Planned Parenthood Gulf Coast is the largest grantee for the program, likely leaving a void in service Houston.
This is just the latest development in Texas' crusade against women's health since it
announced in October
that it will cut Planned Parenthood out of Medicaid funding — about $3 million a year — that's used for preventative healthcare, like cancer screenings, HIV testing and birth control.
Just days after the move, the
state delivered subpoenas
to several Planned Parenthood facilities in Texas, including one in San Antonio seeking voluminous amounts of documents, including questionable requests for information about employees and their relatives. The state did ease its request and 24-hour deadline after pushback from Planned Parenthood,
which has since sued
.
Jeffrey Hons, CEO of Planned Parenthood South Texas, told the
San Antonio Current
that Texas doesn't want Planned Parenthood to exist
.
"The state would like people to believe that whole story is completely separate [from the Medicaid threat] but the timing raises great suspicion," Hons said at the time. "But this starts leaving more and more fingerprints. This is politically motivated. It's not legit."
There's no way cutting funding to an important HIV program isn't politically motivated, either.