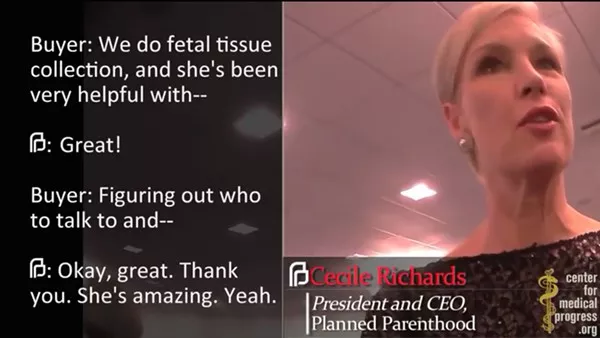 YouTube Screenshot
A screenshot from one of the videos which moved Texas officials to drop Planned Parenthood from Medicaid.
Texas officials
announced today
that the state's Planned Parenthood clinics will no longer receive Medicaid funding in response to undercover videos which portrayed violations related to sale of fetal tissue.
Planned Parenthood affiliates received a letter from the the Texas Health and Human Services Commission informing them that their enrollment in Medicaid was being terminated because "Planned Parenthood affiliates are no longer capable of performing medical services in a professionally competent, safe, legal, and ethical manner."
Texas officials had already stripped Planned Parenthood of most state funding in previous legislative sessions. Planned Parenthood clinics in Texas received about $3 million in Medicaid reimbursements during the 2015 fiscal year, according to the Texas Health and Human Services Commission.
The videos, produced and released by the Center for Medical Progress, an anti-abortion group, allegedly show Planned Parenthood employees negotiating prices for fetal tissue. Planned Parenthood officials claim that the videos are fraudulent, heavily altered and edited to portray the clinics in a negative light.
The letter from the Health and Human Services Commission accused Planned Parenthood of moving the date or circumstances of an abortion in order to obtain better fetal tissue samples, and conducting abortions in unsafe conditions.
"Texas has stepped forward and shown its unyielding commitment to both protecting life and providing women's health services," said Texas Governor Greg Abbott in a news release. "The gruesome harvesting of baby body parts by Planned Parenthood will not be allowed in Texas and the barbaric practice must be brought to an end."
Planned Parenthood officials will fight back against the decision, according to a statement from Dawn Laguens, executive vice president of Planned Parenthood Federation of America.
"It is completely outrageous that Texas officials are using thoroughly discredited, fraudulent videos to cut women off from preventive healthcare, including cancer screenings, HIV testing, and birth control," Laguens, said. "We will fight back against this outrageous, malicious, political attack in Texas with everything we've got, and we will protect women's access to the health care they need and deserve."
Planned Parenthood officials have 30 days to respond to the letter's allegations.