I must confess I'm not as thrilled with the 2012 Texas Filmmakers Showcase (compiled by the Houston Film Commission) as I have been in previous editions. Every year I'm looking forward for the annual DVD, because all the movies are wonderfully shot and edited. However, very few of the lucky ones included in this year's program knocked my socks off.
The good part: one of the good ones is from San Antonio. The bad part: at the very least, Robert López's Franchesca's Dream, one of the winners of the 2012 SA Neighborhood Film Experience 3.0, could and should have been included in this collection.
Having said that, the showcase was worth watching, especially for local filmmakers. The screening was yesterday, Saturday, September 22 at 11 a.m. at the Bijou, and proceeds went to the Austin Film Society's Texas Filmmakers Fund.
Cinnamon
**
15:02 min.
Dir. Timothy Edwards (Austin)
I didn't care much about this black comedy of a widower who wishes the company of a young woman when grandma is not even buried yet. The main character seems to do everything in annoying slow motion, and the acting is the weakest of the seven films.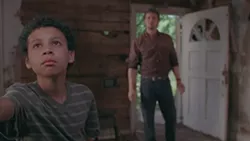 Into the South
***
25:11 min.
Dir. Micah Robert Barber (Austin)
In spite of some overly sentimental moments, this is an engaging tale of a mixed-race kid who lost his black mother and spends some time with his ailing grandmother in the Deep South.
Mentiroso
***1/2
9:33 min.
Dir. Will Shipley (San Antonio)
This is a little gem. It didn't win anything at the 2012 Neighborhood Film Project 3.0 only because it had nothing to do with any SA neighborhood whatsoever, but who cares! A sweet, funny story of a bet gone bad, a photo, a secret that must be kept no matter what, and the strength one gets when love is real.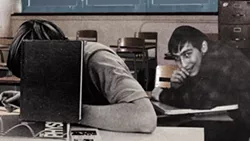 Once It Started It Could Not End Otherwise
****
7:31 min.
Dir. Kelly Sears (Galveston)
By far, the best of the bunch. An eerie, creepy, disturbing horror marvel that uses photos from an old high school yearbook, subtle animation, sound effects, and edgy editing to achieve a powerful chilling effect. You will want to see it again and show it to your friends.
The Order of Things
***
13:02 min
Dir. Chris Spisak (Houston)
A gripping psychological thriller about a man questioned by the police after he assaults his girlfriend.
The Whale
***
13:30 min
Dir. Jaime Chapin (Denton)
Be patient with this one — it might take a while to sink in. But once it grabs you, it won't let go. No dialogue is needed in this unconvential, narration-based meditation on parental abuse where every single shot is a lesson on cinematography.
Z and Beau
***
12:49 min
Dir. Carlyn Hudson (Austin)
A plot like this deserved a better resolution, but the movie works because of, finally, some natural, serious acting. Adriene Mishler and Alejandro Rose-García are perfect as a couple on the lam, and Chris Doubek is believable as the drunk stranger who appears out of nowhere. — Enrique Lopetegui