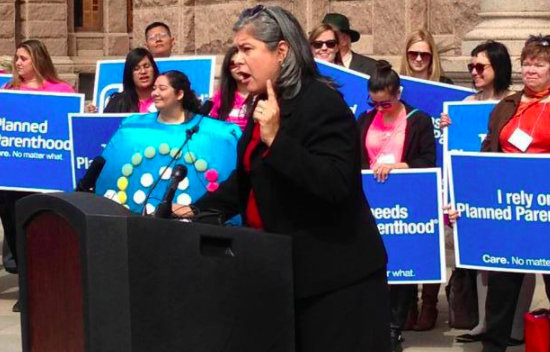 Facebook via Rep. Jessica Farrar
Rep. Farrar at a Planned Parenthood rally at the Texas Capiotl
State Rep. Jessica Farrar has filed a blunt response to the mountain of anti-abortion bills conservative, male legislators have pitched this session: The Man's Right to Know Act.
Farrar borrowed words and tactics of anti-abortion, misogynistic GOP lawmakers to craft a bill that would regulate men's reproductive systems just as harshly as women's in Texas.
Under
House Bill 4260
, men would be fined up to $100 for "unregulated masturbatory emissions" outside of a woman's vagina — it would be "considered an act against an unborn child" and a failure to "preserve the sanctity of life."
Unless, that is, they make it to a hospital.
"Men have to answer for their actions and so forth," Farrar, a Houston Democrat, told the
Texas Tribune
. "So if there's going to be an emission, it would have to be done in a hospital where the semen could be preserved for future pregnancies or it would be directly deposited into the vagina of a woman."
She doesn't stop there. Farrar demands the state produce a "Man's Right to Know" pamphlet that mimics the current
medically-questionable
"Women's Right to Know" booklet all women must receive before going through with an abortion. Men interested in getting a vasectomy or Viagra prescription must first go over a similar booklet with a doctor.
And, just like abortion laws in Texas, men must wait 24 hours between consulting with a doctor about a vasectomy or Viagra before receiving the procedure or prescription slip — to
really
think it over.
Farrar frames this bill as a measure that would benefit men's health and safety, a reflection of the kind of phrasing found in any anti-abortion bills. (Using the guise of "women's health" to sell an anti-abortion bill that has no footing in modern health care is a long-treasured tradition in the Texas Legislature.)
While Farrar calls her bill openly "satirical," and doesn't expect it to go anywhere, she posted on Facebook that "there is nothing funny about current health care restrictions for women and the very real legislation that is proposed every legislative session."
But, the fact that her bill even comes across as some outrageous, laughable request may help remind lawmakers — and the people that elect them — that the existing laws that restrict women's reproductive rights are equally absurd.