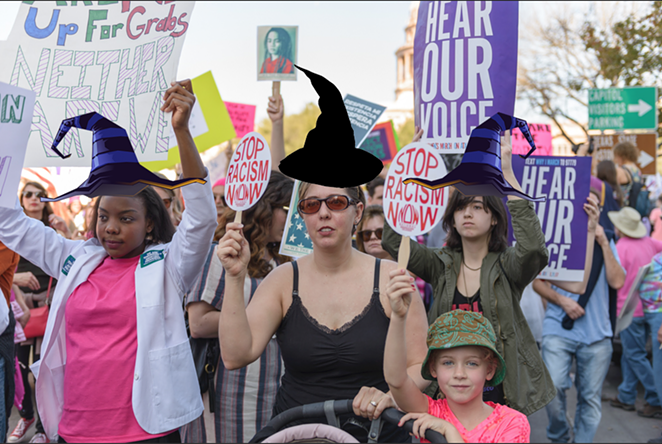 On January 21, hundreds of thousands of people gathered in Washington to participate in what would become the largest protest in American history. And while we saw millions of people worldwide come together to protest issues regarding women's rights, immigration reform, LGBTQ rights and racial equality, one Texas preacher saw something entirely different.
During a February episode of
The Jim Bakker Show
, Lance Wallnau, an evangelical preacher based in Keller, called the Women's March a work of "witchcraft."
"See, what I believe is happening is there was a deliverance of the nation from the spirit of witchcraft in the Oval Office," Wallnau says while discussing the Women's March and other reactions to Trump's presidency.
"The spirit of witchcraft was in the Oval Office," he continues. "It was about to intensify to a higher level demon principality, and God came along with a wrecking ball [Trump] and shocked everyone."
Wallnau goes on to say that the march and its participants were a "manifestation of an enraged demon through the populace." In other words, Wallnau thinks the huge crowds on January 21 were the work of the devil, as you can see in this video by
Rightwingwatch.org
.
"It's a witchcraft that's operating behind this stuff," he says. "It's intimidation and it's threatening and it's destructive and it's clearly the work of the devil."
Right. Because only the devil could bring people together worldwide to march against misogyny and racism.