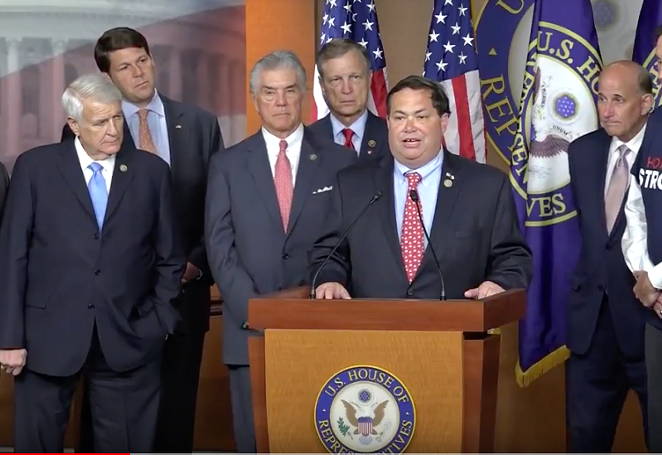 YouTube / BlakeFarenthold
Rep. Farenthold at a September news conference.
It's been deservedly rough month for Corpus Christi Congressman Blake Farenthold.
On December 1, a Congressional hearing unveiled that Farenthold, a far-right Republican, had
used $84,000 of taxpayer dollars
to settle a sexual harrassment lawsuit against him in 2015. Two weeks later, several former Congressional staffers shared stories of Farenthold's
unchecked anger issues and overt sexual comments
that were commonplace in his D.C. office. By Thursday, Dec. 14, Farenthold
bitterly announced
he wouldn't be running for re-election in 2018.
But there was a loophole: He had missed the deadline to withdraw his name from the 2018 ballot, meaning he could still weirdly be reelected.
Now, after a short back-and-forth between the secretary of state's office and the Texas Republican Party (including a day-long lawsuit), it's almost positive the disgraced congressman won't be on the March 6 primary ballot. The state GOP, which has quickly tried to distance itself from Farenthold, simply won't include his name on the list it has to send to the secretary of state of the Republican primary candidates.
Six other GOP Texans are vying for his seat in the 27th Congressional District — a district that's been
ruled unlawful for it's racial gerrymandering
— including a former chairman of the Texas Water Development Board, and a member of the State Republican Executive Committee.