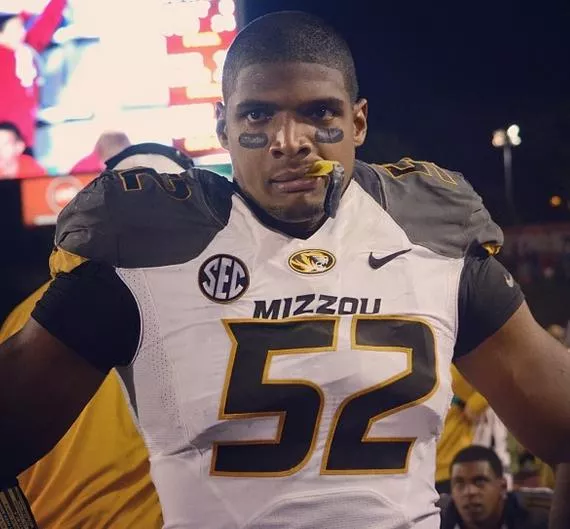 via mikeysam52 on Instagram
It's a common team-building exercise: you form a circle and one by one, each member reveals something about him or herself. (I have webbed toes.)
Back in August, the football team for the University of Missouri did this, and their star defensive lineman, Michael Sam, said "I'm gay." Apparently, the team already knew this, no one told the media, and they all went out and played their season. The Texas-native, was named All-American defensive lineman, the Missouri Tigers won the Cotton Bowl, and his team voted Sam their most valuable player.
Michael Sam coming out was such a "locker room distraction" that I guess he just distracted Mizzou all the way to the SEC title game?

— Sean Doolittle (@whatwouldDOOdo) February 10, 2014
Michael Sam, 24, came out publicly today (Sunday) in interviews with ESPN's "Outside the Lines" and the New York Times:
"I'm not afraid to tell the world who I am. I'm Michael Sam: I'm a college graduate. I'm African American, and I'm gay," he said. "I'm comfortable in my skin."
The jaw-dropping, historical significance of pride (for us all) is that if he is drafted or signed by an NFL team this year, Michael Sam will be become the first active openly gay player in NFL history. Yes, the guy came out before the draft.
As ESPN points out:
In 2014, "Gay Man to Enter Workforce" has the everyday-occurrence sound of a headline in The Onion. But when the NFL is involved, it's a first -- and potentially a landmark moment -- in the history of American sports.
Michael Sam from "Hitchcock" Texas. Enough said.
— Grayson Bluhm (@graysonbluhm) February 10, 2014
Michael Sam's parents are from Galveston, and he was raised in Hitchcock, a nearby small town. He grew up with a lot of adversity, losing siblings to jail and death. As he tells it, coming out is nothing compared to what he's already endured with his family.
"And I love my hometown. I think when this story breaks, I think they're just going to love me even more for who I am."
He graduated this past December with a degree in Parks, Recreation & Tourism.
Now this may very well be an episode of "Friday Night Lights" for it is "clear eyes, full hearts" all the way.