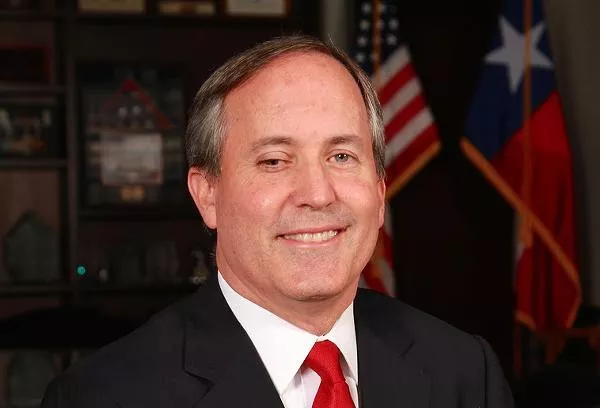 File
Texas Attorney General Ken Paxton
Less than 24 hours after Gov. Greg Abbott
signed Texas' "show me your papers" bill
into law, the state filed a lawsuit against the bill's biggest opponents.
On Monday, state
Attorney General Ken Paxton sued Austin's top city and county officials
(including the entire city council, mayor, city manager, and sheriff) and civil rights organization MALDEF for calling Senate Bill 4 "unconstitutional" and being "publicly hostile to cooperation with federal immigration enforcement." It appears to be a preemptive move — the state said it believes these defendants will sue Texas regarding the new law's constitutionality.
"SB 4 is constitutional, lawful and a vital step in securing our borders," Paxton said
in a statement.
"Unfortunately, some municipalities and law enforcement agencies are unwilling to cooperate with the federal government and claim that SB 4 is unconstitutional."
It's a clear response to Travis County Sheriff Sally Hernandez, who's said she won't detain undocumented immigrants unless there's a warrant — along with the
police chiefs of six of Texas' largest cities
(including San Antonio) who've denounced the new law, arguing that it will only worsen the public safety of the state's major metropolitan areas.
But it appears Paxton has turned a deaf ear to the state's law enforcement leaders. "This is a public safety issue that requires swift resolution," he said Monday.
The lawsuit claims SB4 is "in harmony with the U.S. Constitution, federal immigration law, and all other federal laws," despite civil rights lawyers' objections.
SB 4 requires law enforcement to detain any undocumented immigrants they arrest (regardless of the type of crime they committed) in city or county lockup if U.S. Immigration and Customs Enforcement asks them to. According to the ACLU, detaining people who would otherwise go free on bond or because their charges were dropped would violate the Fourth Amendment of the U.S. Constitution.
According to the state, however: "Racial discrimination is not a substantial or motivating factor behind SB 4 and Texas law," and the "historical background of SB 4 does not indicate discriminatory intent."
Those working for MALDEF, the only non-governmental defendant named in the suit, said they're proud to join the Austin officials in defending the freedoms of Texas' immigrants. And that the immediate lawsuit only proves the state has "high anxiety" about the legality of their new law.
"This is a frivolous legal action, filed precipitously and without basis in the law," said Thomas A. Saenz, president and general counsel of MALDEF, in a Monday press statement. "We will see you in court, Governor Abbott. In the meantime, we hope that both the governor and the attorney general will seek treatment for an apparent problem with premature litigation."