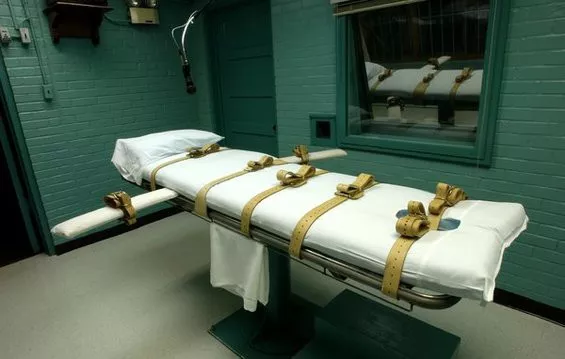 Texas wants its death drugs back.
So for his latest lawsuit against the federal government, Texas Attorney General Ken Paxton has decided to go after the U.S. Food and Drug Administration, which a year and a half ago seized a shipment of lethal injection drugs that it argues the state tried to illegally import from India.
This particular state-federal standoff centers on the drug sodium thiopental, an anesthetic Texas once used in its three-drug lethal injection cocktail. Prison officials started to move away from the longstanding three-drug protocol in 2011 after sodium thiopental became almost impossible to obtain (its sole FDA-approved manufacturer eventually stopped making the drug to keep it out of the hands of death penalty states). While Texas switched to using a single drug, pentobarbital, to kill its death row prisoners, even that soon became difficult to obtain. Since facing the occasional death-drug shortage over the past couple of years, Texas prison officials have said they're "exploring all options" when it comes to carrying out scheduled executions.
Apparently one of those options was seeking the services of a "pharmacist" in India who has no pharmaceutical background (see this
remarkable Buzzfeed investigation
for more). A year and a half ago, when the FDA seized a shipment of about 1,000 vials of sodium thiopental from India at a Houston airport, the feds said Texas didn't have approval to import a drug that is no longer even used in the United States and has no FDA-approved manufacturer.
In his lawsuit filed Tuesday, Paxton argues that importing the drugs without federal approval was allowed because the state was only using them for "law enforcement" purposes. He cites an FDA exemption for drugs that would otherwise be illegal to import, so long as they're used for research or "law enforcement."
"In this case, the drugs at issue fall within the [law enforcement] exemption," the lawsuit states.
In some ways, the execution drug crunch is at the center of the legal debate over capital punishment in the United States. As the drugs became harder to get, Texas, like many other states, has turned to compounding pharmacies, which aren't regulated by the FDA, as a supplier (those and evidently
some dude in India
).
When it became clear those small, unregulated pharmacies would only sell to the state in secret, Texas lawmakers passed a law shielding the identity of the state's execution-drug suppliers.
Lawyers who represent death row inmates
now say the state can't (or won't) produce basic information on the drugs it's using to kill people — which they argue,
in the era of botched lethal injections
, could constitute an unreasonable risk of cruel and unusual punishment. And as if to demonstrate its commitment to the practice, Texas officials have even been caught
selling lethal injection drugs
of unknown origin to other death penalty states so they can keep up with their scheduled executions.
In the lawsuit filed Tuesday, Paxton claimed the FDA has dragged its feet in making a final determination on the drugs Texas tried to import from India. In a statement, Paxton blamed the "unreasonable delay" on either "gross incompetence or willful obstruction" by the outgoing administration. He's asked that the courts force the FDA to make a final decision on whether Texas gets to keep its death drugs.