After sharing a photo of a racist message on a receipt, a Texas waiter has admitted that he faked the whole thing.
Earlier this month, Khalil Cavil, a waiter a Saltgrass Steak House in Odessa, uploaded the photo below to his Facebook. In the post, which has since been deleted, Cavil said he was sick to his stomach after finding "we don't tip terrorist" on a receipt from one of the tables he was waiting on.
"I share this because I want people to understand that this is racism, and this hatred still exists," Cavil wrote on Facebook.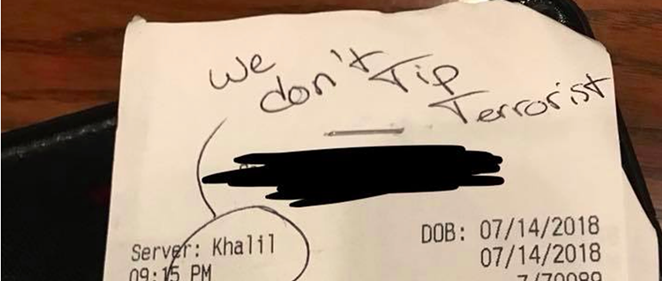 Except Cavil made the whole thing up.
When the photo went viral, Saltgrass executives defended Cavil and banned the customers from the restaurants. Now, the company is calling out Cavil for the false accusations.
"Racism of any form is intolerable, and we will always act swiftly should it occur in any of our establishments,"
COO Terry Turney
said in an official statement. "Falsely accusing someone of racism is equally disturbing."
The company has since invited the customers previously banned back to the restaurant for a meal on the house. As for Cavil, he has since deleted his Facebook and is returning money that was donated to him after the photo went viral.
"I did write it," Cavil
told
the
Odessa American
. "I don't have an explanation. I made a mistake. There is no excuse for what I did."
Stay on top of Texas news and views. Sign up for our Weekly Headlines Newsletter.