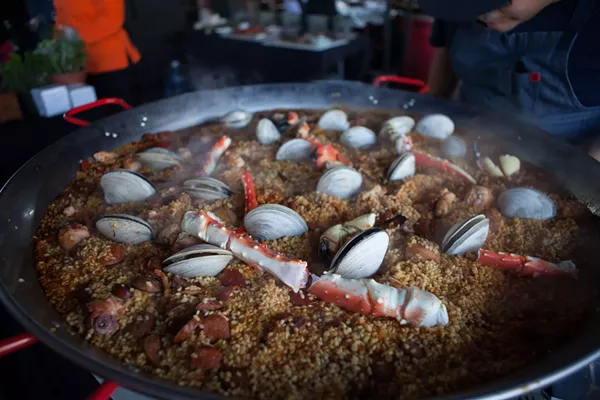 The late, great Mitch Hedberg once said, "I like rice. Rice is great when you're hungry and want 2,000 of something."
Your mantra for Sunday's eighth annual Paella Challenge sponsored by Corona and hosted by chef Johnny Hernandez should definitely be "Come Hungry." Have a light dinner the night before and a light breakfast on Sunday, March 26, to prepare for what we can only describe as an onslaught of rice.
Is the event worth $75?
Do you enjoy trying more than 40 paellas, as created by some of the city's best chefs and visiting chefs from across the nation and state? Are you into stuffing yourself silly and washing it down with Corona (we can't win them all) and boozy sangria? You decide.
This year's festival ode to all things Spanish and made in shallow pans is moving to a new location as well. Mission County Park, 6030 Padre Drive, will offer a new backdrop along with plenty of parking for you to enjoy your seafood-laden dishes.
Participating chefs are broken down into two groups. Those vying for contemporary paella bragging rights include locals Jason Dady (Jason Dady Restaurant Group); Pieter Sypesteyn (The Cookhouse, NOLA Brunch & Beignets); JC Rodriguez (Southerleigh Fine Food & Brewery); Lisa Astorga (Bite); William Rivera (chef de cuisine, Cured); Jason Garcia (Il Forno); Luis Colon (Bexar Pub, Folc); Lorenzo Morales (Jazz, TX); Alejandro Rodriguez (La Masía Catalan Cuisine); Andrew Gutierrez and John Tamez (SA Pops, Art Institute of SA); Flor Vergara (Molino La Gloria); Carolina Martinez-Reyna (San Antonio Food Bank's Catalyst Catering); and Tatu Herrera (Tatu's Food Debauchery).
Visiting chefs in the contemporary category include Tim McCarty of the Mayo Foundation House in Rochester, Minnesota; Jehangir Mehta of Graffiti, Graffiti Earth and Me and You of New York City; Jean-Paul Bourgeois of Blue Smoke in New York City; James Canter of Guerrilla Gourmet in Victoria, Texas; and Jhojans Priego Zarate of Mariscos Villa Rica in Veracruz, Mexico.
Local Modern Classical paella challengers include Robbie Nowlin (Zinc, Boudro's); Mike Sohocki (Restaurant Gwendolyn, Kimura); Jeff White (Boiler House); Camron Woods (Las Canarias & Ostra); Robert Carr (Primero Cantina at La Cantera Resort & Spa); Jeff Foresman (Zocca Cuisine D' Italia at The Westin Riverwalk); Scott Tompkins (H-E-B Culinary Academy); Anthony Mesa (upcoming Dorregos at Hotel Valencia Riverwalk); Juan Carlos Bazan (Toro Kitchen + Bar); Edward Garcia III (The Box Street Social); Justin Ward (instructor at the Culinary Institute of America-San Antonio); Martha Solis (Haven for Hope); Craig Mattox (Catering by Rosemary); Ian Lanphear & Robert Cruzan (Embassy Suites Riverwalk); Jose Calzada (Frederick's); Iris Ornelas (Luna Rosa Puerto Rican Grill y Tapas); and Arturo Fernandez (Fresh Horizons).
Visiting chefs in the modern classical category include chef Susana Trilling (owner of Seasons of My Heart Cooking School in Oaxaca, Mexico) and chef Ignacio Gil of Grupo Wolf in Madrid, Spain.
Tickets are $75 for adults and $25 for minors at
paellachallenge.com
. The event runs 11 a.m. to 4 p.m. on Sunday, March 26.