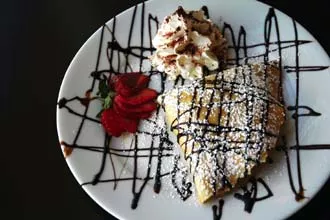 The crepe is topped with chocolate sauce and fresh stawberries on the side.
(Photo by Mark Greenberg)
Bring your sweet tooth to Da Vinci
In the grand tradition of "life's short, eat dessert first," we'll leap right into the gelati at Da Vinci. With 32 flavors of frozen dessert in which to luxuriate, there's bound to be at least one for any taste. That is the dilemma. Will it be hazelnut again, or the adding-excess-to-ecstasy Donatella, a lethal combination of hazelnut and chocolate? Pistachio is always appealing. Crème caramel is intense and addictive; fortunately, the panna cotta proved to be less so. But I could go back to the rummy tiramisu and the intensely bracing limone any time. I've had tiny samples of the rice (it tastes much like rice pudding), the full-throttle coffee shot through with pulverized bean, the full-fat stracciatella with shards of seriously dark chocolate. That's without going near the specialty desserts such as the Pasta Gelato, vanilla gelato fed through a spaghetti extruder and topped with strawberry sauce. Oh, these exuberant Italians.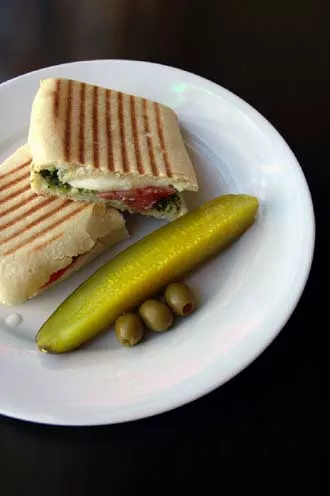 The panino caprese includes tomato, mozzarella, and pesto sauce. It is served with olives and a pickle slice. (Photo by Mark Greenberg)


Gelato's dense and creamy texture belies manufacture from milk alone, and owner Zakaryya Massiri contends that at 70 percent less fat, it's healthier and easier to digest than American ice cream. (There are also fruit-based sorbets made only with fruit and water.) Yet, it's easy to subvert any alleged health benefits by adding toppings such as whipped cream, apricot, chocolate, or even coffee sauce. And we haven't begun to contemplate the potential of accompanying cakes such as pistachio Belize, the cake bars, or the pound cakes, whole or by the slice.

Another seductive option at Da Vinci is the dessert crepe, with numerous combinations of fillings, toppings, and adornments. For $5.99 you can choose three ingredients from a list that includes several seasonal fruits (mango, raspberry, and more ...), the addicting spread Nutella (chocolate and more hazelnut), topping sauces such as berries, chocolate, and rum - and the inevitable whipped cream. Still on the hazelnut jag, I opted for Nutella and banana with caramel sauce and received a mini-mountain of whipped cream. This I can recommend. The caramel sauce, a deep toffee color, was clearly not from a Smucker's jar, and the combination was killer. A cup of good, though not transcendent, hot chocolate served as an amiable companion to the crepe, though an intense, Italian espresso would likely offer better contrast. The house cappuccino is quite acceptable; latte, caffe mocha, and caffe Americano are available.

There is more to Da Vinci than debauchery by dessert: panini. Eight models are available from 11 a.m.-3 p.m. daily, and except for the bruschetta, each is pressed in traditional fashion with fillings such as tuna, mozzarella, tomato, and mayo, or turkey breast with fontina and tomato. The panino with prosciutto di San Daniele is rigorously classic, but the cured ham can turn a little chewy when heated, and there could have been a tad more cheese. The dry-cured beef that fills the panino bresaola avoids this

Da Vinci Gelato & Caffe

18720 Stone Oak Parkway, Suite 152
545-6686
Hours: 10am-10pm Mon-Thu, 10am-11pm Fri-Sat, 2-10pm Sun
Price range $2-6
Major credit cards
Handicapped accessible



textural shortcoming, and the mozzarella, tomato, extra virgin olive oil, and oregano that accompany it are good team players. In high tomato season, the purist panino caprese with tomato, mozzarella, and basil pesto should be tried; it's modest enough (these are not big sandwiches) that one might feel justified ordering a hazelnut mousse from the chilled pastry display box. Demonstrating what now must seem like an unhealthy addiction to hazelnut, I can tell you that the nutty mousse is best savored after it has warmed just a little; the praline-like topping and the unctuous filling then sing together like a Puccini aria. More La Bohème than Turandot. •