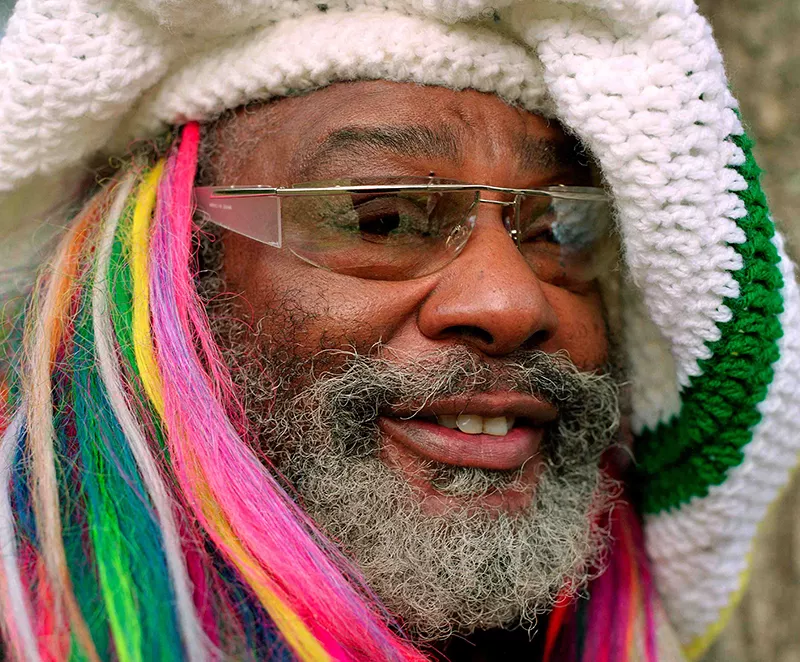 "I have tasted the maggots in the mind of the universe," says a faceless, pained voice. "I was not offended. For I knew I had to rise above it all."
Then the introduction to Funkadelic's '73 masterpiece Maggot Brain truly began: a guitar solo soliloquy that screamed of pain and adversity, imploring some greater human struggle. It begged and begged for something greater, ushering in an era of funk that encouraged listeners to ascend beyond their earthly existence — to go Beyond.
The Afrofuturist aesthetic of George Clinton was born, bearing Sun Ra's cultural zeitgeist of "Space is the Place" as its mantra. Instead of living in the mar of oppression, the band sought an escape in a new form of black art.
George Clinton and his extraterrestrial brothers Eddie Hazel, Bootsy Collins and Bernie Worrell pioneered a sound that was paranoid, desperate and bursting at the seams with no reservations. It sounded larger than life, with solar-kissed lysergic revelations screaming, "You don't buy a life, you live a life."
Even though George Clinton and company inspired a statement of freedom of expression, it was never a coherent one. And maybe it was never meant to be, as schizophrenic musings jolted with distortion and raw-speed, acid-induced funk musings continued to blow out the stereo seams in hip-hop.
In the 80s, Afrika Bambatta carried the torch of P-funk with the battle cry "Renegades of Funk," preaching the word of Malcolm X and MLK through a "musical message to improve momentum and seek electronic chance." Then in the late 80s, De La Soul's jazzy beats felt like liniment. With all its fancy wordplay, it turned machismo hip-hop on its head and asked listeners to "get down in the D.A.I.S.Y age" (da inner sound, y'all).
Soon after, Three Stacks and Andre 3000 crash-landed in Atlanta, releasing a triptych of albums that proved hip-hop could flow as smooth as the '70s grooves of Sly and the Family Stone but still segue effortlessly into Cadillac sub-woofer booms. Even Flying Lotus' You're Dead sprawls out of control into black-hole collapses and drone-clattered headaches, only to be accompanied by cartoonish weirdness.
And like George Clinton, each creates individualized spaces, tracing their own direction to the unconventional urge to create new worlds of their own.
George Clinton & Parliament/Funkadelic
$25-$45, 8pm Thurs, May 28, Aztec Theatre, 104 N. St. Mary's, (210) 812-4355, theaztectheatre.com