The works of art the San Antonio Spurs are best known for are big, gold statues – championship trophies. However, the recently renovated AT&T Center makes a lesser-known aspect of the arena shine: a multitude of Texas-centric art.
"A lot of people think that art that was originally in the SBC Center is new art," says Lisa Garcia, who, along with Alice Carrington Foultz, has curated the 200-plus collection since 2002. "It's just that they didn't see it. They've moved a lot of art from different locations."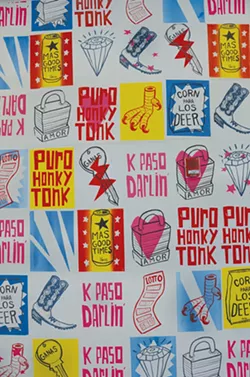 Cruz Ortiz's "Hello Darlin' Map" is puro Texas and brightly greets fans entering through one of the AT&T Center's entrances.
That happened after the renovation that was completed just in time for this record-breaking season.
However, as Garcia explains, there are new additions to the collection.
Publicly viewable pieces include "Exit Signs," by Ethel Shipton; "Light It Up," by Elizabeth Carrington; "We're Good Right Here," by Ansen Seale; "Champions," by Rudy Choperena; "Hello Darlin' Map," by Cruz Ortiz; "The Sixth Man," by Guy Hundere and "Buckle Up," by Campbell Bosworth.
And there's more on the way.
Garcia said the AT&T Center just purchased the University of Texas at San Antonio's Veinticinco print portfolio, which features Latino and Latina artists.
"It includes living artists and a few deceased artists," Garcia explained. "It's a good representation of the artistic community in San Antonio."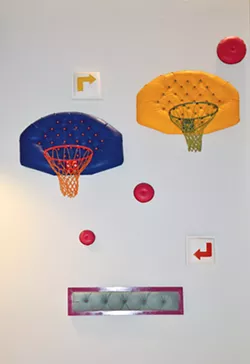 Ethel Shipton's "Chances 1," "Chances 2," "Choices" and "R&R II" are sometimes too popular with fans who attempt to dunk on the upholstered b-ball backboards.
The proceeds of that sale go to scholarships for the art department.
As for the entire collection, though it includes San Anto artists, it is not specific to the Alamo City.
"All of the art is by artists who are in Texas or were in Texas at some point," she said. "So, Texas and the area."
So no matter where a Spurs fan, or, really, anyone visiting to attend one of the many activities or events in the AT&T Center come from, there's probably visual art that will give them some kind of reminder of home.
"We put together a plan of what we wanted the building's art to represent," Garcia said. "And so it's representative of the activities that take place in the building, of the region, of values like celebration and family."
Photos by Bryan Rindfuss
Guy Hundere's "The Sixth Man" contains 10,000 individually animated fans composed into a giant figure that undulates like crowds at the AT&T Center.
"Exit Signs" by Ethel Shipton honors all the Spurs fans from around Texas.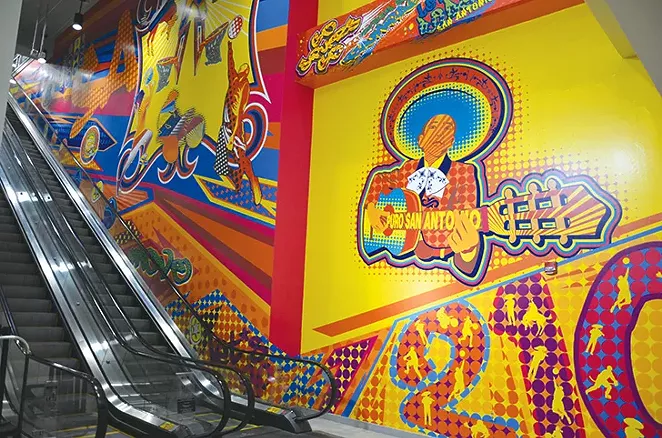 Elizabeth Carrington's massive and loud "Light It Up" is a celebration of all things San Antonio, sports and culture.
"Champions" by Rudy Choperena emphasizes the movement behind greatness.
Light installations by Cathy Cunningham-Little glow in a Spurs suite.
"Buckle Up" by Campbell Bosworth is an oversized Texas belt buckle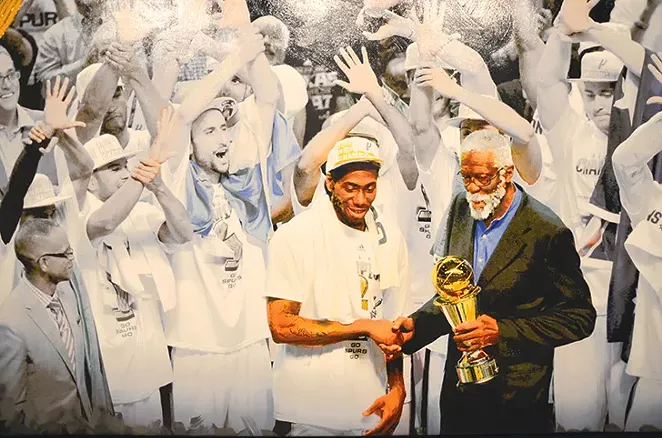 The latest painting in a series of Spurs Championship teams by Barbra Riley.