Reposted with permission from The Tacoist.
At home, because I'm a poor ass, I make a pot of beans every week. They're a great source of protein, and they're inexpensive to make. And in my beans, I don't use animal fat. Which is fine. I cook them 'til tender with salt, garlic, onions, etc., and they're delicious. Look, I'm 38 and I'm a Mexican from San Antonio, and I'm trying to not end up with four stents in my arteries when I'm older.
That said, oh-my-God animal fat in beans is delicious.
This is the case with the refried beans at Pancho's on Old Highway 90. They are smooth and creamy and loaded with flavor. These beans taste exactly like that amazing bean aroma you take in when near a taqueria. The cheese in the bean and cheese almost ruins the taco, the beans are that good. The tortilla is almost wafer thin and light. While tearing into this bean and cheese taco, there was a conjunto duo belting out corridos near the door and I really did tear up.
The rest of the tacos were, you know, alright. They didn't inspire me one way or the other. They didn't reach out and touch my very being to tell me everything is going to be OK and that I will in fact not die a lonely man, that there is hope, like some tacos do. Like the bean and cheese does here.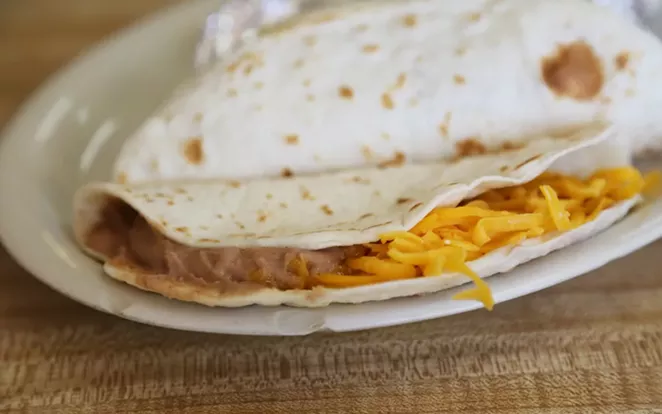 Ben Olivo
The bean and cheese taco at Pancho's is as good as it gets when it comes to bean and cheese tacos.
Another way of putting it minus the drama is that there was a drop-off.
On corn, the machacado taco was slightly dry. I realize it's dried meat, but the overall taco doesn't have to be dry. The meat was well-seasoned, but this taco needed some of the in-house hot sauce to moisten it up. And that's fine, that's what the chile is there for. This isn't barbecue in Lockhart, where the sauce ruins the sanctity of the meat.
On flour, the chorizo and egg is exactly what you'd hope for in a chorizo and egg, the whole thing mixed together and cooked fresh as it should. The egg in the egg a la Mexicana was a little overdone, but the flavors of the diced onions and peppers popped through.
The orange hot sauce was obviously habanero and therefore very hot. But tasty, slightly garlicky, and seemingly pure vegetable and water — no vinegar. The green a mellow, balanced and mild serrano.
I really enjoyed eating at Pancho's. I think the conjunto dudes — whose name is Dueto Vendaval, according to their card — had something to do with it. It's one of those places where people come up to you selling things or solicit donations for a church program. Pancho's is on the western edge of what I consider to be the West Side. It's almost rural looking over there, the businesses more spread out and less squeezed together like on Commerce (which is the same road as Old Highway 90, but closer to town) and on Guadalupe/Castroville. Inside Pancho's, there's a sign that says "Homemade horchata."
That bean and cheese though . . .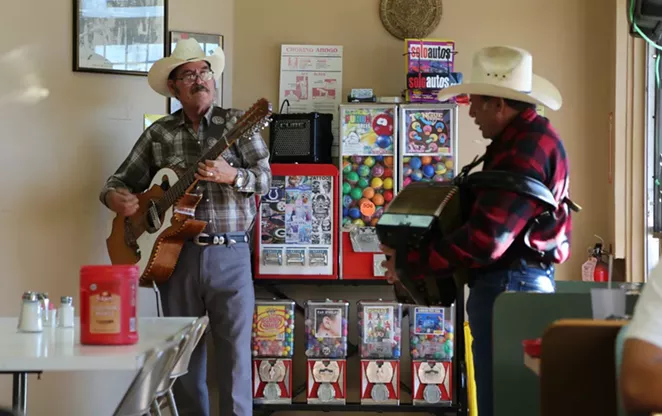 Ben Olivo
Dueto Vendaval performs at Pancho's Mexican Restaurant on the West Side.
Pancho's Mexican Restaurant, 1005 Old Highway 90, (210) 433-2800


Visit The Tacoist for more snapshots of San Antonio taquerias.