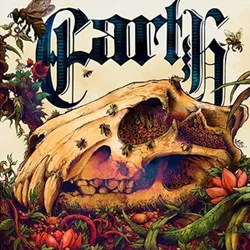 The Bee Made Honey in the Lion's Skull
Composer:
Earth
Conductor:
Earth
Label:
Southern Lord
Release Date:
2008-03-26
Rated:
NONE
Media:
CD
Length:
LP
Format:
Album
Genre:
Free Improv
Earth was one of the first bands to re-create droning musical concepts in a rock or metal context. Heirs to all preceding drone-metal acts, they nonetheless forgo low-tuned metallic sludge for drawn-out cinematic slow-burners.
Earth recruited veteran jazz guitarist Bill Frisell as producer and collaborator for this one, with intriguing results. The songs are all instrumental, yet Earth's droning workouts never drag or wear on your nerves. It's slow, and there's hardly ever an incredibly noticeable chord change, yet the songs move with extreme confidence, radiant with blazing energy and emotional
dominion.
The Bee is a jaunt of slow jangling guitars that forge into layered harmonies, dissolving into repetitive musical mantras that float and hum, resonate and breeze. The enveloping drones actually succeed in sketching mental pictures of empty sunburned pastures and long stretches of deserted highways. The guitars twang throughout, sometimes echoing American folk, other times jazz — but always situated perfectly and composed in flawless balance.
The drums work in a muffled skitter, functioning strictly to wheel the slow beat and work around the skeletal bass lines. There's discreet keyboard work that surfaces only to flesh out a tone here or there or to slap a breezy ambience over the noise.
Earth has produced a gem that breaks from genre imitations while avoiding the pitfalls of modern experimental metal, creating music that adheres to the ears.
— Kent Alexander