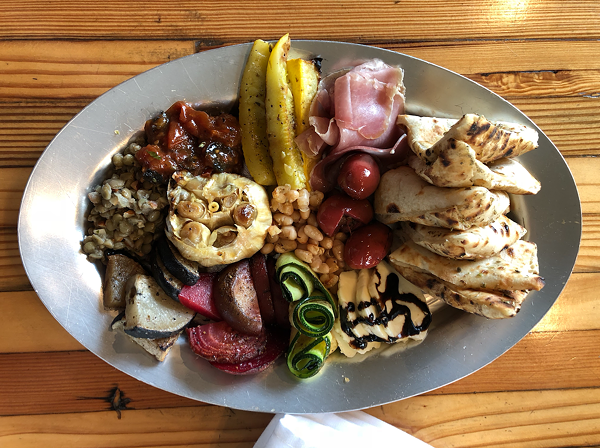 Editor's Note: The following is The Big Spoon, an opinion column on San Antonio's food and drink scene.
One of the loudest criticisms The Big Spoon column and I have faced since launching earlier this spring has been about "making food political."
It happens in columns about prices, for example, and about not going back to Paula Deen's restaurant (or "Dean" as her supporters would like her name to be spelled).
Here's the thing: Food is political and denying that is likely our biggest mistake.
Here's a quick list of questions you can ask yourself before eating breakfast/lunch/dinner that will help you decide if food is political:
Are you growing your own food?
Are you using heirloom seeds?
Are you using organic pesticides?
Are you composting your own scraps?
Are you pulling the carrots from the ground yourself?
Are you buying organic and do you know what qualifies as organic under USDA guidelines?
What is your stance on immigration? Do you know who picks your strawberries and how much he/she is paid daily per pound picked?
Do you know what living conditions the people who pick your vegetables live in?
Are you buying coffee from a coffee shop that sources its own beans directly from whatever Colombian/Ethiopian lot?
Are you picking up Starbucks before or after their anti-biased training?
Are you vegan?
Are you vegetarian?
Are you buying grass-fed beef?
Are you buying free-range eggs?
Do you know what qualifies as free-range under USDA guidelines?
Do your children go to public school?
Do they pay for their own lunch?
Do you know what they're eating and where the food comes from?
Do you shop at a farmers market?
What percentage of your produce/proteins comes from local farmers?
Do you know where your pork comes from?
Do you know if your favorite restaurant uses straws?
Does your favorite restaurant offer biodegradable food packaging?
Who owns your favorite restaurant?
Do the restaurants you frequent have Human Resource departments where employees can report sexual harassment?
If there's no HR department, where can employees turn to report any incidents of harassment?
Is Mario Batali still profiting from Eataly?
Does John Besh still profit from Lüke, Shaya?
Who is Ken Friedman and why does he want a comeback?
Where do your oysters come from?
Where do your crawfish come from?
How much money do servers earn?
How much money do cooks earn?
How much money do dishwashers earn?
Does the current immigration climate make it hard for restaurants to staff their kitchens?
Can paid sick leave work in San Antonio?
What resources do service industry workers have for mental health?
Who would benefit from paid sick leave in San Antonio?
Who writes food reviews for your favorite magazine?
When was the Mushroom Council established and what do they do?
When was the National Dairy Council formed and what is their mission?
Which farmers markets accept Texas EBT and SNAP?
What can Texas EBT/SNAP/WIC recipients buy with their benefits?
What can't they buy?
How does the San Antonio Food Bank distribute food and when?
Can bakeries discriminate against the LGBTQ community when trying to purchase a wedding cake?
Can restaurant owners ask Sarah Sanders/Stephen Miller/Kirstjen Nielsen to leave their establishments?
Was Anthony Bourdain's food and travel show political?
Do you need a food permit to sell water?
Food – who gets to eat it, who doesn't and what sort – is political. Most of the answers lie in a grey area that allows us to choose what we eat, when we eat it and why – if we're lucky enough.
The Big Spoon will continue to treat food as a political subject until these questions are answered.
So many restaurants, so little time. Find out the latest San Antonio dining news with our Flavor Friday Newsletter.