Chicken sliders from Bud's and a glass of wine
Name:
The Bottling Department
Background:
The Bottling Department opened in summer of 2017 and houses five different eateries and a wine bar within its walls. The location started a happy hour not too long after it became a favorite of weekenders visiting the hall after the farmer's market closed down.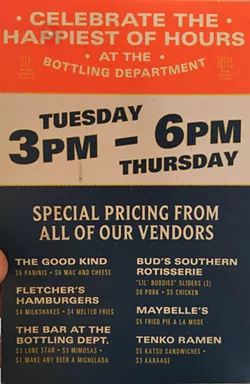 Erin W.
All the deals during happy hour!
Happy Hour:
Visit any time between open and close on Monday and you can grab a glass of wine or a beer for half price with a food purchase. Beverages you can choose from range from $1.50 to $7 and most of the establishments have special menu items that run from $3 to $6. Happy hour is all day Monday, and Tuesday through Thursday from 3 to 6 p.m.
Patrons
: As far as happy hour crowds go, the one at the Bottling Department is the most diverse. There are families that visit with the kiddos in tow to grab a doughnut while the parents sip on a half-priced Merlot. There are students that stop in to grab a beer and a bite to eat while studying. There are friends from work meeting for a quick drink and snack before battling traffic for the day. No matter who it is — they will find something at the Bottling Department.
Experience:
I came into the food hall on Monday around lunch time for their all day happy hour and the place was packed. After debating between Tenko's $5 katsu chicken sandwich, Fletcher's $4 melted fries, or the Good Kind's $6 paninis — I was drawn to the aroma of Bud's rotisserie chicken and their $5 sliders. After ordering food and getting my buzzer I ran over to the wine bar where I purchased a $4 glass of red wine from the suggested wines to pair with the food vendor of my choice. Shortly after receiving a glass, the buzzer indicated that the food was ready for pick up. It was one of the fastest happy hour services I have ever experienced. Within 10 minutes of arriving I had a drink and my food in front of me. The wine was great and the sliders, even better. Served on a simple white bun Bud's loads their pulled chicken and bread and butter pickles onto the bread. What you're left with is a delicious snack that is big enough to be subbed as a dinner. With so many different establishments offering a special it's the perfect happy hour to keep coming back to.
312 Pearl Pkwy., (210)-564-9140.
Erin Winch writes about boozin' in the Alamo City on her blog
Drinking In SA
. Follow her on Instagram at
@drinking.in.sa
for more.