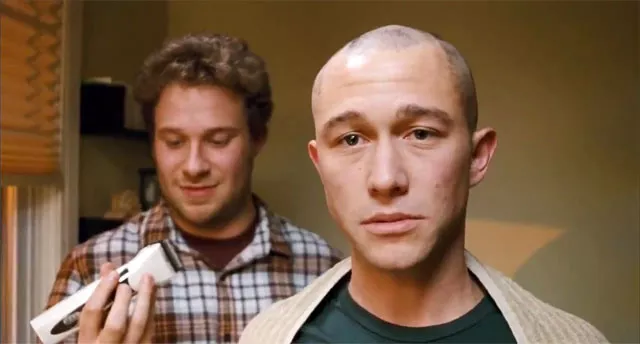 "You just have to laugh, so you won't cry." This sentiment, often expressed in the face of tragedy (and many tragicomic movies), is the driving force behind 50/50, the new film from the creators of Superbad starring Joseph Gordon-Leavitt and Seth Rogen. In a departure from their wheelhouse of raunchy sex-comedies, Rogen and Co. have tackled a topic that is truly super bad: a young man (Gordon-Leavitt) discovers he has cancer and must lean on the relationships in his life as he struggles to cope with the effects of his illness. Sounds hilarious, right?
Actually, it is, thanks to the chemistry between Gordon-Leavitt and Rogen. The two play Adam and Kyle, who work together at the public radio station, where we quickly see their contrasting but complimentary personalities at work. Kyle (Rogen) is the brash ballbuster who jokes his way through his responsibilities, while Adam would rather seethe beneath the surface than confront a difficult client. So, not much of a stretch for either actor in terms of the types they normally play, but both have the challenge here to do what they do with very sensitive material.
Of course, they're still in the vein of Rogen's biggest hits with plenty of dialogue that's heavy on sex talk. Even before Adam finds out about the cancer, Kyle grills him incessantly about his "love" life. Most of these exchanges come across as awkward attempts at humor, though Rogen does have a few good zingers. But once Adam's doctor drops the C-bomb, the sexual pursuits take on a therapeutic dimension — a way to keep their minds off of the dismal possibilities and turn Adam's burden into a blessing by using it to score sympathy. Rogen makes these attempts at levity believable, but more impressively, he shows surprising subtlety in the way he conveys the discomfort of a frat boy-type who's trying to be a supportive best friend to a cancer patient.
His success is likely due to the proximity of the material; Rogen's friend Will Reiser wrote the screenplay, based on his own experiences. A terrific ensemble, including veterans Angelica Huston as Adam's mother and Philip Baker Hall as a fellow cancer patient, also provide a good balance between gravitas and bucket-list light-heartedness. Even Anna Kendrick manages not to annoy as the psychologist who helps Adam deal with his anxiety. But ultimately, it's Gordon-Leavitt's soulful emotional honesty that turns out to be this movie's best bet.
★★★1/2
50/50
Dir. Johnathan Levine; writ. Will Reiser; feat. Joseph Gordon-Leavitt, Seth Rogen, Anna Kendrick, Bryce Dallas Howard, Angelica Huston (R)