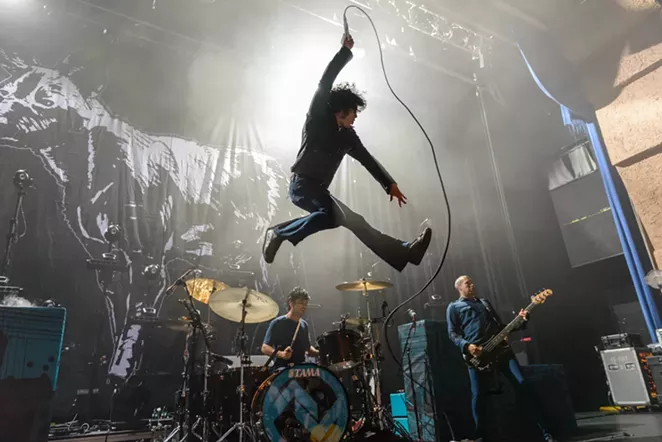 It's been nearly two decades since we've had an album full of new music from At The Drive-In, the seminal post-hardcore band from the Texas borderlands that briefly raged its way into mainstream success before splintering into a couple of really good side projects in the early aughts.

It seems the new album from the recently re-united band, last month's in•ter a•li•a, has left Texas even more enamored with the El Paso boys. The band's San Antonio stop sold out not long after it was announced. And the crowd gathered at The Aztec Theatre Friday night was clearly eager to hear more from some of the Texas rock heroes of their generation.

Mexican garage-punk band Le Butcherettes set the scene, opening up the night with frontwoman Teri Gender Bender twisting, gyrating and pounding on her guitar and keyboards. Then, amid a crescendo of excited screams from the audience, ATDI burst onto the stage, kicking things off with "No Wolf Like The Present," the first track off of the band's new album.

The band then pivoted to "Pattern Against User," the lead track from 2000's Relationship of Command, a song that got the crowd roaring.




The band blended new stuff with old favorites, like "Napoleon Solo" off In/Casino/Out and "198d" from Vaya. And singer Cedric Bixler-Zavala once again proved himself one of the more entertaining rock-and-roll frontmen, leaping from guitar amplifiers, jumping off the drum kit and dancing across the stage like James Brown as the sound of guitarist Omar Rodriguez-Lopez's signature spasmodic shredding bounced off the walls.


Notwithstanding the occasional drunken mosh-pit fight and Rodriguez-Lopez throwing his guitar down in the middle of one song because someone in the audience kept chucking beer cans toward the stage (seriously, assholes, this is why we can't have nice things), ATDI have managed to prove a couple things with this tour. They've somehow revived the same explosive energy that made us fall in love with them nearly two decades ago. They're also showing us how the chaotic, post-hardcore spirit they so brilliantly inhabit is as relevant today as it ever was.