Page 3 of 4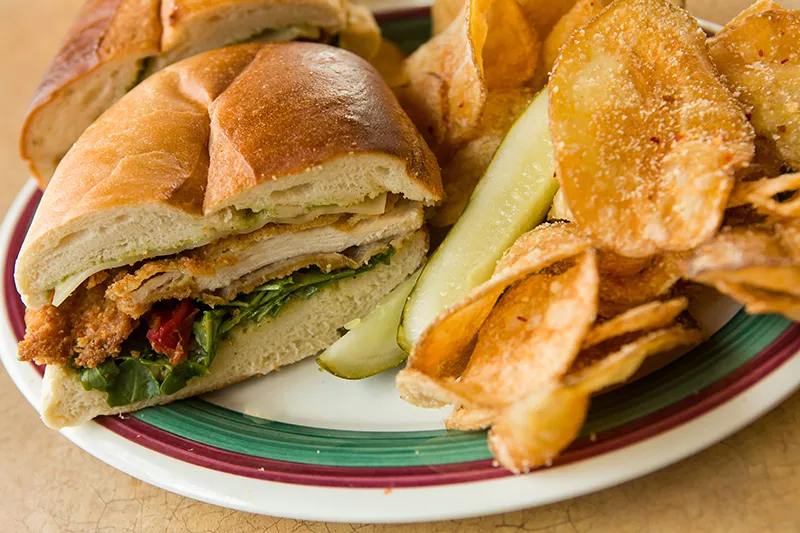 Dan Payton
Go for the sandos at Fratello's.
Healthy-ish
Fratello's Deli
2503 Broadway, (210) 444-0277, fratellosdeli.com
Looking for something cool to satisfy you in the summer heat? Check out Fratello's Deli where you can find a number of cool gourmet entrees. For under $10 you can try several different types of panini freddi: Calabrese, Romano, Muffaletta and the list goes on.
MAAR's Pizza and More
14218 Nacogdoches Rd., (210) 599-7400, maarspizzaandmore.com
MAAR's Pizza likes to remind its customers that their pizza and pasta is made with 100 percent extra virgin olive oil and 0 percent trans fat is used in all of their fried food. That sounds pretty healthy to me. What's even better about MAAR's pizza is that you can get a 14-inch pizza for only $14. Also, they provide free Wi-Fi. I know, that sounds out of this world.
File Photo
Get your gluten-free fix at Max's.
Max's Wine Dive
340 E. Basse Rd., (210) 444-9547, maxswinedive.com
Max's Wine Dive in the Quarry specializes in wine, but you can also find some delicious eats, including pulled pork stuffed peppers. The gluten-friendly meal ($12.75) is stuffed with pulled pork and cotija and topped with chipotle aioli and cilantro chimichurri.
Pho Cong Ly
300 W. Bitters Rd., (210) 499-5572, phocongly.com
The bowls of pho are huge. They're probably big enough that Godzilla and King Ghidorah might think they are the Pacific Ocean and start fighting. It's kind of scary. But what's not scary is the price. Each of the 22 different types of pho goes for just $7.85.
Panchos and Gringos
900 Nolan St., (210) 227-6700
People often stop at Panchos and Gringos for the restaurant's amazing breakfast and lunch. We've even heard the words "best pancakes" thrown around a few times. Whenever you stop, make sure to also try the eggs Florentine. The company takes pride in making sure its eggs are extra fluffy and extra filling.
Taste of Malabar
5999 De Zavala Rd., Suite 109, (210) 561-4409
A $10 budget can get you far at Taste of Malabar, also known as Taste of India. The restaurant offers 12 vegetarian meals for $9.95 along with many chicken and tandoori specials. You can also try their vast assortment of naan bread for $1.50-$2.50 each.