Page 4 of 4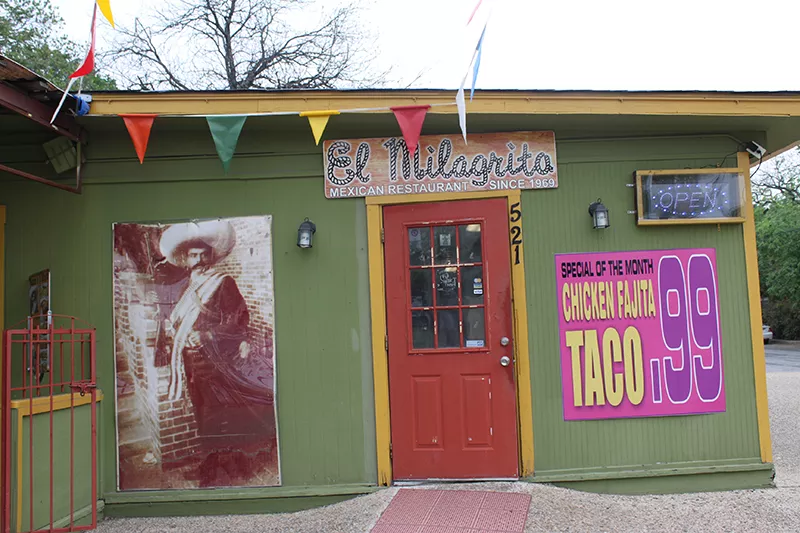 File Photo
The miracle here? Good extra-cheap tacos.
Tacos
El Milagrito Café
521 E. Woodlawn Ave., (210) 737-8746, elmilagritocafe.com
Between Monday and Friday at El Milagrito Café, you can purchase the restaurant's daily lunch special. For only $5.99, the specials include not only an authentic Mexican entrée, but also a drink to go with it. As a bonus, all plates are served with rice, refried beans, salad and two handmade tortillas.
Los Robertos Tacos
Multiple locations, losrobertostacoshop.com
Everyone knows breakfast is the best meal of the day, and so does Los Robertos by making its breakfast tacos three for $2.99 between 5 a.m. and 4 p.m. You can also catch their assorted weekday specials that don't max $6.99, or six carne asada tacos for $6.50.
Mama Margie's Mexican Café
10927 Culebra Rd., 210) 277-7090, mamamargies.com
Mama Margie's Mexican Café has served San Antonio some of the cheapest, yet most delicious, tacos one can find. But did you know that the chain's Culebra store also serves $6.99 daily specials that include entrees such as the beef enchilada plate, the chicken fajita plate and the carne guisada plate?
Taco Cabana
Multiple locations, tacocabana.com
What could possibly be better than bean and cheese nachos washed down by a beer or margarita? Getting bean and cheese nachos washed down by a beer or margarita for only $3. Between 4 and 7 p.m., Taco Cabana's happy hour allows customers to get the perfect mid-day pick-me-up.
Taquería Chapala Jalisco Mexican Restaurant
1819 McCullough Ave., (210) 735-5352
Large portions with itty-bitty prices, Taqueria Chapala Jalisco Mexican Restaurant serves specials such as three tacos for just $2.99. The taquería serves breakfast all day with ample servings of chorizo, eggs and bacon to go around.
Taquería Datapoint
4063 Medical Dr., (210) 615-3644
It might be possible for Taquería Datapoint to have too many deals. They sell all tortas for $4.75, all burritos for $4.50 and all orders of mini taquitos for $6.50. For plates that keep both your stomach and wallet full, try out the combination or cheese enchilada plate for $7.50.
File Photo
Taco time at Taps y Tapas.
Taps Y Tapas
1012 N. Flores St., (210) 277-7174, tapsytapas.com
Ten dollars can go a long way during Taps Y Tapas' Social Hour. You can either get three tacos and two tallboys, two tacos and two pints, or one taco, two pints and a tallboy. There are different ways to mix it up at Taps Y Tapas, see which suits you the best.