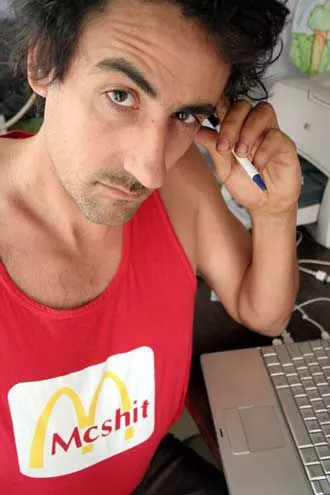 The organic, grain-fed, hand-patted patty of chefs: Chef Boy Ari.
Dear CBA,
I used to cook salmon on the grill, wrapped in tinfoil and soaking in a marinade. I've recently heard that cooking with tinfoil is bad for you, and now I don't have a go-to way to grill salmon. What do you suggest?
— Foiled
Dear Foiled,
Maybe cooking with tinfoil is bad for you, maybe not, but since tinfoil hasn't been manufactured since the middle of last century, who cares? If you're referring to aluminum foil, I've heard those rumors, too. I've also heard the aluminum in antiperspirant gives you breast cancer, but since (a) I'm not in a high-risk group for breast cancer; (b) my sweat smells like roses; and (c) that rumor's been widely discredited, I've not given much thought to the antiperspirant side of the story. But Alzheimer's runs in my family, so I've paid more attention to the … What? Wait. What was I talking about?
Sorry. Like many issues at the crossroads of science, industry, and public health, the discussion of aluminum toxicity is crowded with concerned citizens, conspiracy theorists, industry lobbyists, and contradicting evidence. Despite all this confusion, it seems clear that aluminum is (a) a neurotoxin; (b) found in large concentrations in the brains of Alzheimer's patients; and (c) the most abundant metal in the earth's crust. Thus, while aluminum is tough to avoid, it's worth a try.
The real question is: if you're wrapping fish in aluminum foil, why are you grilling it? Isn't the whole point of grilling to let the flames kiss the meat, creating that deliciously carcinogenic outer crisp? If you want the moist cooking environment of a foil pocket, I suggest placing the whole business — meat, marinade, etc. — in a covered cast-iron pan or baking dish and cooking it in the oven. If you want to grill salmon, I'd briefly grill the non-skin surfaces first, then grill it skin-side down until it's done.
Dear Chef Boy Ari,
I have $75 per week to spend on food, with only myself to cook for. I go to the grocery store every day, and I always have food to throw away on garbage day, usually produce. I am undergoing chemotherapy and want to eat healthy and tasty fare. Do you have suggestions on some basic buys and techniques for my situation?
— Budgeting for Health
Dear Budgeting,
Rule No. 1: Run everything I say by your chemo doctor/nurse before acting on it.
Part of why I mandate the above is that there are, as you surely know, many different chemo drugs. Some take away your appetite, some give you diarrhea, some give you constipation, some make your mouth feel dry or weird. Without knowing more about your case, and without being a certified expert, I can't get too specific.
That said, I would suspend worrying about healthy and focus on what you can tolerate, what you can keep down, and what your body craves during this stressful time.
Vegetables, preferably local (likely to be fresher and with more vitamins) and organic (so you aren't ingesting even more chemicals) are a great option. Which brings us to Rule No. 2: Don't throw them away! If you are going to the store every day, buy small amounts fresh as needed. Serving veggies well-cooked will make them easier to digest and kill any bacteria that might prey on your depressed immune system.
My recommendation: Soup! It will keep you hydrated, and it has that comforting, healing vibe to it. You can put whatever veggies you want/have in it while they're still fresh, as well as chicken stock and items like grains and beans, which are cheap in bulk. Freeze your soup in portion-sized containers and heat 'n' serve when you don't feel well enough to cook from scratch.
Good luck!
Dear Chef Boy Ari,
I had a good crop of tomatoes and peppers this year. But the plants, full of fruit, seem like they need another month to fully ripen, and I don't think they'll get it. Should I leave the fruits on the plants as long as I can, or should I pick them unripe?
— Salsa in Waiting
Dear Salsa Waiter,
Your plants will be able to weather mild frost if you cover them at night with a tarp or a light blanket. But eventually it'll be cold enough to freeze right through that kind of insulation, and then your tomatoes and peppers will be toast. So keep an eye on the weather forecasts, cover your plants when it's going to frost, and when the Big One is imminent do one of the following:
Pick off your tomatoes and peppers. You can wrap the green tomatoes in newspaper and stick them in the closet, and they'll turn red soon. Or you can keep them on the windowsill. The peppers, even if they aren't red, are still going to taste good and you can use them, or string them up and they'll turn red.
What I do, space permitting, is pull up the whole plants and hang them upside-down in my garage. They ripen nicely that way, and so whenever you want a ripe tomato, just walk into the garage instead of the garden. In my case, it's a shorter walk anyway.